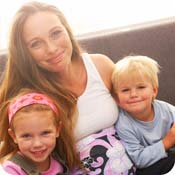 Lifting baby to/from the stroller or floor: Squat or kneel down, without bending from the waist. Keep baby as close to your body as possible when transferring. Exhale and contract your abdominal and pelvic floor muscles as you straighten your legs to stand up.


Lifting baby out of crib: Bring baby as close to you as possible by pulling his sheet toward you. Use drop-down side whenever possible to prevent excessive forward bending. Bend at the knees, exhaling as you lift baby with both arms.


Bathing baby: If your baby is in the bath tub, kneel next to the tub. When bathing her in the sink, stand up straight, bending over as little as possible. Place one foot on a stool or open sink cabinet in front of you will alleviate the stress on your lower back.


Doing laundry: Always squat or kneel to get clothes in and out of the dryer. Avoid twisting back and forth from machine to laundry basket. When folding clothes, sit with clothes in front of you, or have them on a surface that allows you to stand up straight.
The guidelines may seem like commonsense, but when you're busy (or just not thinking about it) it's easy to make mistakes here and there. Just because it doesn't hurt now doesn't mean that you aren't causing some damage. Being pregnant, and taking care of your baby, is a time filled with joy-and stress. So don't let your back cause you any more grief. Protect it now so you can enjoy your pregnancy and motherhood.