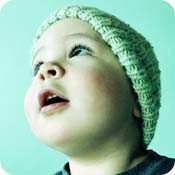 Cover and refrigerate homemade baby food for immediate use; use within 3 days of preparation.
For longer storage, homemade baby food can be poured into a plastic ice cube tray and placed in the freezer. Once frozen, put the cubes into a clean, airtight plastic bag. When ready to use, remove frozen cubes for single-serve portions. The cubes can be heated in a saucepan or in the microwave. Stir and check for proper serving temperature and to avoid hot spots.
Label and date the homemade baby food. Fruits and vegetables may be kept frozen for 6-8 months. Frozen meat items should be used within 2 months.
Try these simple baby food recipes:
Cooked Meats and Poultry: Place 1/2 cup cubed, cooked meat into the blender. Add about 4 tablespoons of liquid (such as meat broth, water, breast milk, or formula). Blend until smooth.
Fruits and Vegetables: Put 3/4 cup cooked fruits or vegetables into the blender. Add 2 tablespoons of water or juice. Process until smooth.
Creamed Fruit and Cottage Cheese: Put 1/2 cup of cottage cheese and 3 tablespoons of canned or cooked fruit into a blender. Add breast milk, formula or juice to reach the desired consistency. Process until smooth.
Meal-in-One: Place 1 cup cooked meat, 2/3 cup cooked vegetables, 1/2 cup cooked rice (or noodles, potatoes, or baby cereal), 1 cup liquid (broth, vegetable juice, breast milk, or formula) into a blender. Puree to desired consistency. Freeze in ice cube trays. Makes 3 cups, or 15 food cubes.