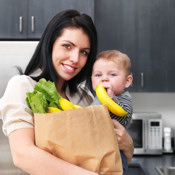 All cookbooks geared toward moms say the same thing: Plan ahead, cook in large batches and plan out your weekly meals. Although this is great advice and a crucial part of making a healthy lifestyle work, it's sometimes easier said than done, especially for a busy mom. Getting going is the hardest part, but with our 7-day menu, you can start practicing, pick up a few tricks and start cooking!

While the work and school week starts on Monday, your home runs 24/7. It may seem odd that this menu begins with the weekend, but this is no accident. You generally have more free time on weekends, so we'll help you take advantage of that extra time. By clumping the two days together, you can more easily plan ahead for the busy week to come.

The goal of this seven-day meal plan is to spend as little time in the kitchen as possible, give you delicious and useful leftovers, and keep you moving in your everyday life--all while serving delicious food that your family will love.

Our menu is calculated for a family of four all eating equal portions, but depending on the appetites and ages of your children, you might have more leftovers--or none at all! We know that each family's preferences are different, so feel free to swap whatever fruits and vegetables your family likes, and while we recommend low-fat or skim milk for grown-ups, give your children whatever you and their health-care provider believe is best.

(Note: Do not give nuts to children under three or honey to children under age 1, and give age-appropriate bites to avoid choking. For more information on age-appropriate snacks, read Tasty Treats for Toddlers.)



We've given you three meals a day, and we also recommend that you add in onr or two of your favorite nutritious snacks, for both you and the kids. Here are some ideas to get you started:
20 Nifty, Nutritious Snacks for Kids
6 Treats to Satisfy Any Pregnancy Craving

Be sure to print our Grocery List and Printable Meal Plan Calendar to accompany this meal plan!

Saturday:
Breakfast:
The Brainless Banana Pancakes are perfect for a Saturday morning. Make a double batch so there's enough for the entire family. Make this meal heartier with a dollop of peanut butter on each pancake after it's cooked. Spreading on 1 T of nutty goodness will add about 180 calories per serving to energize your day and will give you a dose of heart disease-fighting unsaturated fats, as well as some filling protein. Serve with an 8 oz glass of low fat or fat free milk.

440 calories 11 g fat

Tip: Swap the banana pancakes for your family's favorite variety! Make extra pancakes and freeze them for busy mornings. You can also use regular milk if you don't want to buy soymilk. If you do buy soymilk, use it on cereal later in the week or to make smoothies for a snack.

Lunch:
Grab a three-pound precooked rotisserie chicken from the grocery store today. Bring it home, discard the skin and shred the meat. You'll get a few meals out of it.

Today for lunch, make a double batch of the Chicken and Corn Chowder using two cups of the rotisserie chicken. You'll have 12 servings of soup, which means three meals! Separate the soup into three batches. Enjoy one now, refrigerate one to use this week, and freeze the third to pull out of the freezer for a quick meal down the road. (Just be sure to label and date it so it doesn't get forgotten in the freezer!) Serve each cup of soup with a slice of toasted whole-grain bread. (Leave out the jalapenos in this recipe if you don't like spicy food.)

430 calories 8 g fat

Tip: Save money by buying a chicken and roasting it yourself. (Or roast two and freeze the meat.) You can even make stock from the bones and leftovers. You can also use grilled, baked or poached chicken breasts, if you'd like.

Dinner:
Break out the grill and get ready to cook! For dinner tonight, it's Grilled Salmon with Dill.

NOTE: The FDA says that pregnant women can eat up to 12 ounces of safe fish per week, including chunk light tuna, salmon, catfish, shrimp and pollock. (For more information on eating fish during pregnancy, read Playing it Safe: Eating Fish)

Also, while the grill is hot, cook a double batch of Marinated Veggie Kabobs to enjoy with the salmon, and toss on 4 medium pork chops for Monday's dinner. (Season them with your favorite spice rub.) When the pork is done, let it cool a bit, and then place in the fridge until you're ready to eat it later in the week. Make a double batch of Low Cholesterol Scalloped Potatoes as well, serving half tonight and refrigerating the rest for a heat-and-eat side with the chops. Pour a cup of milk, too.

500 calories 14 g fat

Tip: Use whatever vegetables that your family likes in your kabobs. Eggplant, potatoes, zucchini, and any kind of root vegetable will grill well. You can also use another herb on your salmon if you prefer. Be sure to use dried herbs, as fresh ones will burn on the grill.

Prep work: Before going to bed, prepare Breakfast Casserole so it's ready to go in the morning. If you don't want to buy sourdough bread, use whatever kind you have on hand.

Sunday:
Breakfast:
Break out the prepared pan of Breakfast Casserole for an easy morning meal. It serves 8, so you can have it for breakfast tomorrow, too. While that's cooking, slice up four cups of strawberries and two kiwis. You'll use two cups today and two tomorrow. Serve the casserole with a half cup of the strawberry-kiwi salad and a cup of low fat or fat free milk. You're ready to eat!

390 calories 12 g fat

Tip: If strawberries aren't in season or are too pricey at the market that week, substitute any kind of fruit you'd like.

Lunch:
Use the remainder of the rotisserie chicken to whip up some Waldorf Salads.

Tip: Deconstruct the salad for kids. Leave out the walnuts if your little ones are too young for nuts, and serve them chunks of chicken and fruit. Don't forget a cup of milk!

355 calories 14 g fat

Dinner:
The recipe for Creamy Chicken Enchiladas only calls for 1 1/2 cups of cooked shredded chicken, but go ahead and cook up at least 4 boneless, skinless breasts, which you'll use later in the week. Let all the chicken cool a bit, then shred (using two forks) and refrigerate all but 1 1/2 cups. When the enchiladas are done, you'll have four servings for tonight, and two to store as leftovers--lunch later in the week. Serve with a cup of green beans and low-fat milk.

480 calories 11 g fat

Tip: Toss your leftover spinach on sandwiches and in salads for the rest of the week. Your leftover tortillas will be used in tomorrow's lunch!

Monday:
Breakfast:
Everyone's back to work and school, so simplify your Monday morning and still get in a great breakfast. Heat up the rest of yesterday's breakfast casserole and serve with the remaining chopped fruit.

Enjoy with a cup of cold milk and you're on your way to a healthy day.

390 calories 12 g fat

Tip: Wash and cut up fruit as soon as you get home from the supermarket so it's ready to add to any meal.

Lunch:
The surplus shredded chicken from your enchiladas last night can easily be used instead of turkey in the Mango Turkey Picadillo Wraps. The whole-wheat tortillas used in both recipes also makes bulk buying a breeze. Add on a half-cup of baby carrots dipped in low-fat dressing. (You'll have leftover filling. Make four now and put the filling the fridge to assemble the wraps later this week.)

440 calories 13 g fat

Tip: This filling can also be served over shredded romaine or brown rice. You can use purple raisins instead of golden raisins. You can also use frozen mango in this dish. Just thaw in the microwave and chop before adding to the pan.

Dinner:
This dinner is almost fully cooked! Pull the precooked pork from fridge, nuke it and you're ready to go. Combine this lean meat with leftover Low Cholesterol Scalloped Potatoes and Marinated Veggie Kabobs for a quick Monday night meal. Pour yourself a cold cup of milk to go along with this meal.

480 calories 18 g fat

Tip: For persnickety little palates, pull the vegetables off the skewers and serve them cold with low-fat dressing to dip.

Prep work: Hard-boil a dozen eggs for tomorrow's breakfast and other meals this week (don't forget to mark them with a pencil so you can remember which ones you boiled).

Tuesday:
Breakfast:
With a few grab-and-go foods, you can compile a great balanced breakfast even when you're running late. Try 1 hard-boiled egg, a mini whole wheat bagel with 1 T peanut butter, a medium banana and 4 oz 100% orange juice.

430 calories 13 g fat

Tip: Make an egg sandwich by swapping the peanut butter for low-fat cream cheese.

Lunch:
Make a big batch of chicken salad today! Buying cans of chunk chicken is convenient for families. They're lean and filling and ready to eat straight from the can. This tasty protein source is great to plan into your week and stock up on in case of meal-planning emergencies. Add on a handful of grapes (about a half-cup) to work in an extra serving of fruit.

460 calories 18 g fat

Tip: Serve the chicken salad on the pita, cover with cheese and broil until bubbly for a tasty open-faced melt. Add shredded carrots to work in some vegetables.

Dinner:
Tonight's dinner, Black Beans and Rice, is an easy recipe that requires just a few fresh veggies and healthy staples from your cabinet. Start cooking 4 cups of brown rice before you begin any other task. (Half is for Thursday night.) Serve it with the Tomato Salad with Orange Cilantro Vinaigrette and a cup of milk.

450 calories 11 g fat

Tip: Not a fan of cilantro? Use basil or flat-leaf parsley instead.

Wednesday:
Breakfast:
Your morning meal can be a breeze with cut fruit, nuts and yogurt. 1 cup nonfat vanilla yogurt, 1/2 cup fresh or frozen berries, 1/4 c low-fat granola and 1 oz sliced almonds give you plenty of protein, calcium and antioxidants, while providing 450 calories to fuel your day.

445 calories 9 g fat

Tip: Save money by buying plain yogurt at the supermarket and mixing in your favorite fruit or jams.

Lunch:
Some of your precooked hard-boiled eggs will become easy and tasty Garden Vegetable and Egg Salad Sandwiches. If you prefer less bread, serve your egg salad over lettuce with a serving of your Corn and Chicken Chowder on the side. Slice up an apple, too!

460 calories 15 g fat

Tip: Use your leftover spinach in this recipe!

Dinner:
Get a good dose of iron with beef tenderloin tips in the Beef Stroganoff for the 21st Century. Serve your stroganoff with a cup cooked vegetables, like steamed broccoli or green beans and, of course, a cup of milk. When the stroganoff has cooled, pack any leftovers into individually packed containers.

510 calories 24 g fat

Tip: Use lean beef or even turkey medallions in this recipe and add some dried rosemary and thyme.

Thursday:
Breakfast:
Breakfast is usually a fairly rushed meal during the week, so when you find something healthy, balanced and quick, stick with it. Today, repeat 1 hard-boiled egg, 1 mini whole wheat bagel with 1 T peanut butter, a medium banana and 4 oz 100% orange juice.

430 calories 13 g fat

Lunch:
Take a break from cooking. For lunch today, use up the many leftovers in your fridge. You should have two servings of the creamy chicken enchiladas, as well as some of the tomato salad from Tuesday, some Mango Picadillo Wraps and last Saturday's chowder. Combine a serving of each with a cooked vegetable for a quick noon-time meal. Round out your meal with a cup of milk.

calories and fat will vary

Tip: Leftovers make great lunches for both adults and kids, and let's face it: Sandwiches, salads and soups get boring. Planning ahead means that all you have to do is reheat a nutritious meal and dig in!

Dinner:
Cook a double batch of ground turkey tonight, using half as a substitute for ground beef in the Beef and Vegetable Stir-Fry. Cut an extra cup of green peppers, onion and mushrooms and place in the fridge to use for tomorrow's dinner. Heat up the brown rice leftover from Tuesday's Black Beans and Rice meal, and add a cup of milk and, for a treat, a scoop of sorbet for dessert.

550 calories 9 g fat

Tip: Reheat cooked rice by placing it in a microwave-safe bowl and covering it with a damp paper towel. Use a fork to break it up, but don't fret if it clumps slightly. Sticky rice is easier to eat!

Friday:
Breakfast:
This morning is easy cold cereal and milk topped with nuts and a piece of fruit. Try 3/4 c shredded wheat with 1/2 oz sliced almonds, 1 cup low fat or fat free milk and 1 medium banana. Since breakfast is so quick, make the 15 Minute Chili while you're prepping for the day. Be sure to save a half-cup of ground turkey (put it in a baggie in the fridge) to sprinkle on your homemade pizza tonight!

370 calories 8 g fat

Tip: If a cold cereal breakfast provides you with a bit of time, start prepping dinner. Chop vegetables, thaw meat (in the refrigerator, never on the counter) or place a meal in the slow cooker.

Lunch:
You're ready to eat in no time because you already made the prepped 15 Minute Chili. Enjoy with a slice of whole wheat bread for dipping.

450 calories 15 g fat

Tip: Broaden their palates. If your kids don't like spicy food, omit the chili powder and add mild salsa. You can teach them to appreciate spices such as cumin without subjecting them to heat.

Dinner:
Tonight's meal is quick and easy. Spread about a cup of pizza sauce on a pre-made, whole-wheat pizza crust, sprinkle on your reserved ground turkey from this morning and precut veggies from last night. Top it with one cup provolone cheese that you've shredded and some dried oregano, pop it in the oven and bake according to directions on the crust. Slice into 8 and serve two pieces with a salad (2 cups romaine and 2 T low-fat dressing) and a glass of milk.

560 calories 18 g fat

Tip: This is a great meal for the kids to "cook" themselves. Even the smallest of kids can arrange the toppings or sprinkle on cheese.