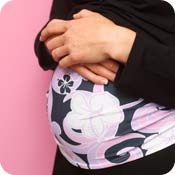 Announcing your pregnancy is one of the most exciting times of your entire life. It's likely that you will be so excited that you just blurt out the news as soon as you get that positive pregnancy test. But if you can hold back for a little while, here are some creative, romantic, caring and downright funny ways to tell people. Even if your partner already knows, the two of you can conspire to tell family and other loved ones that a baby is on the way.

Movie Night
Instead of a regular Friday night movie, rent movies with a baby theme, such as "Junior," "Nine Months," "Father of the Bride II," "Look Who's Talking," "Juno," or "Knocked Up."

Sweet Surprise
Bake cupcakes, then ice half with blue frosting and the other with pink. Add a plus sign on top of each. Take them to the office to share the good news.

You've Got Mail
Send out an e-mail to your partner and all your relatives with the subject line "Updating Our List of Family Birthdays" and include everyone's birthday, from grandparents down to grandchildren and great-grandchildren. Then at the bottom put "Baby _____" and your expected due date.

Go Team
Buy a baby-size outfit from your partner's favorite sports team and wrap it up. Personalize the shirt with your last name, then spread the news to the rest of your family by giving them little hats to match.

Start Saving
Buy a ceramic piggy bank and label it "College Fund." Put it wherever you pay your bills. Wait for your partner to find it and say you have to get cracking because you've only got 18 years to save for your child's education.

Baby Food Delight
Invite your friends or family over for dinner. Before serving the meal, bring out a platter of baby foods jars (carrots, peas, squash, etc) or serve food on a divided toddler plate. Offer a sippy cup of apple juice or a bottle to wash it all down.

Create a Family Tree
Spread the news to your family by preparing a family tree with pictures of grandparents, parents, brothers and sisters, aunts etc. Underneath the spot for you, put a picture of a stork and the baby's due date. Display it during a family gathering.

Create Your Own Birth Announcement
If your partner or other family members read the newspaper regularly, put a homemade announcement there! Design it on your computer, print it out and tape it into the morning newspaper for them to find. If they skips that page, tell them there's big news story that they have to read there.

Family Photo
Buy a three-paned photo frame, and put baby pictures of you and your husband on either end. Put a photo of your positive pregnancy test in the middle frame or, if you have some photo editing skills, use photo software "morph" your faces together to show what your child may look like.

Back Seat Surprise
Buy an infant's car seat and install it in the back seat of your partner's car. See how long it takes for him to notice the addition.

Give Him the Grocery List
Ask your partner to stop at the grocery store on the way home from work and then hand over your list: saltines, pickles, ice cream and prenatal vitamins. If you get a confused call later, add diapers and see if your partner catches on.

Unique Wine List
Take your partner to your special restaurant and have the waitress bring out a special wine list for the two of you. Inside, the only selection will be a vintage from the year your baby is due with a description like "a unique blend of the very best of a special couple."

Tea for Two
Prepare coffee or tea as usual but ask your partner to get the milk out of the fridge for you. Instead of the regular milk jug, leave a breast pump or a can of baby formula in its place.

Editor's Note: Did you share your big news in a fun way? Share your story!