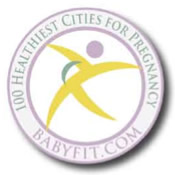 Overland Park, Kansas is the healthiest city for pregnancy according to BabyFit.com's list of Top 100 Cities for Healthy Pregnancies. The other cities in the top five include Ann Arbor, Michigan; Madison, Wisconsin; Sioux Falls, South Dakota; and San Jose, California (Full List of the Top 100 Cities)

To develop the list, BabyFit.com compared 200 American cities with populations of at least 100,000 on 15 factors that impact pregnancy health. Some of the variables compared include: regional access to medical care, the average age of expecting mothers, healthy weight / body mass index scores, stress levels within the region, percentages of mothers who smoke, average birth weights and the incidence of certain medical conditions. BabyFit.com compiled the data from a variety of sources including the Centers for Disease Control, The National Women's Health Indicator's Database, The National Center for Health Statistics and other publicly available sources. Each of the 15 factors was weighted by their impact on pregnancy by a team of health professionals and pregnancy experts. From the weightings, the research team developed a formula that scored and ranked each city to find the top 100.

Learning of his city's number one ranking, Overland Park Mayor, Carl Gerlach said, "As a nationally recognized community to raise a family, Overland Park is fortunate to have excellent medical services and facilities, and caring and knowledgeable physicians and staff members to assist expecting parents…We are honored to be recognized by BabyFit.com as the Top City for Healthy Pregnancies."

BabyFit.com, the company behind the study and the leading online healthy pregnancy planner, encourages healthier pregnancies and healthier babies by providing women with personalized, online healthy pregnancy programs as well as expert and peer pregnancy support. The Top 100 Cities for Healthy Pregnancies were named by BabyFit.com to discover which cities provide the best environments for healthier pregnancies and healthier babies, and to recognize them for their achievements.

California ranked the highest out of the states with 20 cities in the top 100. California cities were also best for women not smoking during pregnancy, and all 20 California cities ranked in the top 50 for healthy birth weight.

San Jose Mayor Ron Gonzales said, "Healthy families are one of our top goals for keeping San Jose a great place for our residents to call home. When mothers can give their babies a healthy start with good nutrition, access to medical care, and early education, it helps them get a smart start for the rest of their lives and makes our entire community stronger."

BabyFit.com founder Chris Downie commented on the project and the work still to be done by saying, "BabyFit.com is a very mission-driven organization, so we are always looking for new ways to help women have healthier pregnancies, healthier babies and healthier families. Now that we have a solid benchmark for identifying what the healthiest cities for pregnancy are doing well, hopefully we can inspire and help other cities achieve similar outcomes."

View the complete list of cities. For general information read our article about theTop 100 Cities Ranking Methodology. More information on the methodology behind these rankings as well as a detailed look at where each city ranks among the variables is available by emailing press@babyfit.com.

About BabyFit.com BabyFit.com is the leading online healthy pregnancy planner and is 100% free for all users. Designed for health-conscious women who want to have the healthiest pregnancy possible, BabyFit provides each member with her own personalized pregnancy fitness and nutrition program, expert advice, and encouraging peer support. To inspire more pregnant women to take healthful action, the company recently launched an annual action campaign called The BabyFit.com Healthy Mom Challenge. By rewarding women for doing the things that improve their own health, the campaign combines the spirit of competition and prizes with the personal motivation of making a difference and providing a great start in life for their unborn children. To find out more about The Challenge or why healthy babies start with healthy moms, visit www.BabyFit.com.