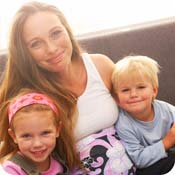 As "super mommy," you're cooking, cleaning, caring for boo-boos, and moonlighting as the Candyland expert. Multitasking is a must for every mommy. So when it's time to prepare mid-morning and mid-afternoon snacks for your toddler, go ahead and whip up a little extra for yourself.
The following snacks will not only please the finicky taste buds of your toddler, but also provide a slew of nutrients and energy to help meet your pregnancy needs. These treats score high when it comes to ease of preparation as well as taste appeal for both mom and toddler. And rest assured, the following snack suggestions do not contain any foods that your toddler might choke on.
Hot chocolate and vanilla wafers.
Peeled pear slices with cubed mozzarella cheese.
Thinly sliced colby cheese on whole grain Triscuit crackers.
Cottage cheese mixed with canned, sliced peaches.
Fruit smoothie: In blender, combine 1 carton yogurt, 1 cup orange juice, 1 banana, and 10 frozen strawberries. Freeze leftovers in popsicle molds for another snack.
Layer instant vanilla pudding, blueberries, and toasted oat cereal in a clear glass for a parfait.
Turkey, cheese, and tortilla roll ups: Microwave until steamy hot, then slice in pinwheel shape for a fun finger food.
Toasted whole grain bagel spread thinly with peanut butter and served with a glass of milk.

**Check with your Pediatrician regarding toddler, nuts (nut butters), and food allergies.

Toasted, lightly buttered cinnamon bread and orange juice.
Banana slices drizzled lightly with hot fudge topping.
Complete the treat with a good naptime story and perhaps you both can catch up on some well-deserved rest!
Notes About Choking
It is important to closely monitor the chewing capabilities of toddlers and preschoolers. Having teeth does not mean that your child can handle all foods safely. Never leave your child alone while eating. Avoid small, round-shaped, hard foods. Slippery and sticky foods can also block the air passageway. Cut foods into small, irregularly shaped pieces.
The following foods are difficult for toddlers to chew properly. Offer these foods only when your child can chew and swallow well:

Hard chunks of raw fruits and vegetables
Raisins, hard candy, marshmallows, cough drops, chewing gum
Large globs of peanut butter
Peanuts, nuts, and seeds
Whole grapes
Whole hot dogs or hot dogs cut into "rounds"
Chicken and turkey with skin and bones
Fish with bones
Chips, pretzels, popcorn, and granola
Melted mozzarella cheese