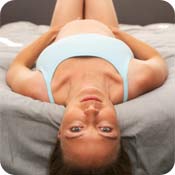 Add some noise
Wait a second, isn't it true that your bedroom should be as quiet as possible? Well, up to a point, yes. The darker and quieter the room is, the more deeply you'll sleep, even if you don't realize it. But, adding "white noise" into the background of your bedroom can actually help you slumber. These steady, quiet sounds will block out other more disturbing noises that might keep you awake. Plus, once you are asleep, you'll be less likely to wake up from other noises. Try keeping a fan blowing at night-a cool bedroom is more conducive to sleep anyway. Or, try playing relaxing music or natural sounds, especially something that can be set on a timer. You can buy CD's that play gentle rain, waterfalls, or wind noises-there are plenty of choices.

Listen to your body
One reason you might have trouble sleeping is that your body is tense. Try a relaxation video or CD that guides you through loosening up and relaxing each muscle group. Start at your feet, contracting and relaxing your muscles, and move all of the way up your body. This is a quick technique to unwind. Plus, deep-breathing exercises, which mimic your respiration pattern while sleeping, can help convince your body that it is time to drift off.

In the future?
Exercise! Consistent fitness and good nutrition are directly linked to improved sleep. Of course, if you are lying in bed restless, it might be a little late. But, start tomorrow and you'll sleep better in nights to come. If (and when!) you do exercise, make sure it's not right before bedtime, which can interfere with your body's ability to relax and nod off.

Make going to bed a routine. Begin your routine around the same time every night, even on weekends. This could include any of the techniques listed above. It could simply mean changing into your pajamas and brushing your teeth. Do something consistently that your body will learn as signals to settle down for the night, and you'll wake up refreshed the next day.