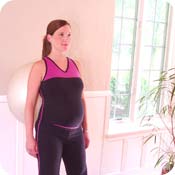 BabyFit is proud to partner with Catherine Cram as one of our Resident Maternal Fitness Experts. Below you can learn more about her company.



Comprehensive Fitness Consulting, LLC Providing Prenatal & Postpartum Fitness Information to Healthcare Professionals

7116 Spring Hill Drive, Middleton, WI 53562

Phone: (608) 831-8173

Fax: (608) 831-2766

compfc@aol.com

Comprehensive Fitness Consulting, (CFC) specializes in providing the most current pre- and postnatal fitness information and certification programs to healthcare and fitness professionals. The following prenatal and postpartum fitness materials are available through CFC. Please call or email for more information, pricing or to place an order.

---
Prenatal & Postpartum Fitness Certificate Correspondence Course
The "Prenatal and Postpartum Exercise Design" certificate course was updated by Maternal Fitness Expert, Catherine Cram, MS in 2003 and includes the latest maternal fitness research, guidelines and exercise techniques. This comprehensive course includes: training manual, test materials, course certificate and continuing education credits for most fitness organizations. Course Content includes:
Current research on maternal exercise and references, updated January 2003
Physiological and biomechanical changes of pregnancy and postpartum
American College of Obstetricians and Gynecologist guidelines, updated 2002
Contraindications for exercise
Extensive strength and flexibility training photos and instruction
Exercise design for pregnant and postpartum women
Warning signs and symptoms for pre-and postnatal women
Modifications for each trimester
Nutritional recommendations
Exercise design for water and land aerobics programs
Relaxation techniques
Health screening, medical clearance and exercise monitoring forms
Handouts for class use
---

Prenatal Fitness: Exercise During Pregnancy
The booklet "Prenatal Fitness: Exercise During Pregnancy" was written by maternal fitness expert, Catherine Cram, MS. It was developed to provide the most current, safe and effective prenatal fitness information to pregnant women.
Topics in the booklet include:

Benefits of prenatal exercise and safe and effective fitness program design
American College of Obstetricians and Gynecologists guidelines
Proper body mechanics and lifting techniques
22 pages of text including photographs and illustrations of strength and flexibility exercises
And much morea€¦
---
American College of Sports Medicine/Healthy Learning Videos presents: Developing a Pre- and Postnatal Fitness Program video

This video provides a detailed overview of maternal exercise guidelines that are designed to enable women to safely include exercise in their pre- and postnatal health care. Includes the following:
Physiological changes during pregnancy and postpartum
Benefits of maternal exercise
ACOG guidelines
Exercise prescription
Criteria for developing a safe and effective maternal exercise program
Specific exercises and techniques for pregnant and postpartum women
---
American College of Sports Medicine/Healthy Learning Videos presents: Postpartum Recovery Techniques and Exercises video
Continued ›