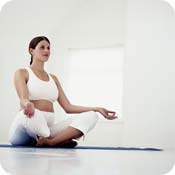 Eat. Follow a healthy eating pattern. If you limit your caloric intake, you won't have enough energy to work out and your metabolism will slow down. Pregnancy is NOT a good time to start a diet. You could be doing damage to yourself and to your baby.

Understand your own personal energy cycle. We all know there are peaks during our day and even during the week. Try to complete your workout when you're feeling good about yourself. If you're having a rough day, it's okay to just take a break. You don't need to push it.

Wallow in your greatness. You can exercise to become a better exerciser, or you can exercise to become a better mother, a better teacher, or a better friend – or you can exercise to become BETTER. Be proud of that accomplishment.

Have fun. Where's your childlike spirit? When you can make workouts "playouts," you've got it made.
Don't give up on yourself. After all, it's never too late to be that healthy person you can be. If you need motivation, just think: not only will you be helping yourself, you'll be benefiting your baby as well!