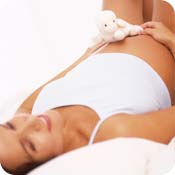 Caring for your health before you become pregnant may help you identify areas that put you and/or your baby at risk during pregnancy. First, schedule a pre-conception counseling appointment with your doctor. This discussion can educate you on things to come and help you prepare, both physically and emotionally, for pregnancy.

Here are a few things to consider prior to becoming pregnant.

Your weight - Your doctor will recommend you achieve a healthy weight before becoming pregnant. If you are overweight, you are at risk for high blood pressure complications during pregnancy. If you are underweight, you are at risk of delivering a low birth-weight baby. What is a healthy weight? Check out the chart in this a. Important - once you are pregnant, dieting is out of the question. You want to try to achieve your healthy weight prior to becoming pregnant.
Exercise - Generally, if you are currently active, your doctor will advise you to continue your normal exercise routine throughout your pregnancy, as long as there are no complications. However, starting an exercise program while you are pregnant is typically not recommended. Ask your doctor about exercises appropriate for you and your particular circumstances.

Diet - To ensure a healthy pregnancy, you should follow a healthy, well-balanced diet, including a variety of foods to get all the nutrients you need. Your physician will likely ask you about your caffeine intake as well as your daily consumption of calcium-rich foods, folic acid and Vitamins C and A. Supplements are usually recommended, such as a prenatal vitamin containing folic acid.

Planning Ahead makes a lot of sense!

Improving health status before becoming pregnant has its advantages:

You will feel better.
It will help you keep your weight gain during pregnancy within safe range.
It will contribute to a greater sense of well-being.
It can reduce your recovery time postpartum.

Total Weight Gain General Guidelines
| | |
| --- | --- |
| Body Type | Target Weight Gain |
| Underweight (BMI under 19.8) | 28-40 Pounds |
| Normal weight (BMI 19.8 - 26.0) | 25-35 Pounds |
| Overweight (BMI 26.0 - 29.0) | 15-25 Pounds |
| Obese (BMI over 29.0) | 15 Pounds |
Source: Report of the Dietary Guidelines Advisory Committee on the Dietary Guidelines for Americans. (2000).