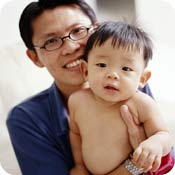 9. Classes. Head to the library to sit in on storytime or take a swim class at the local community center. Dad can browse the storybooks (see No. 10) and splash around the pool just as well as any mom!

10. Reading. Have dad pick out his childhood favorites to read to the baby at bedtime. It's never too early to start a consistent bedtime routine, and a wind-down with dad may be just what the doctor ordered. Plus, dad may have funny voices and dramatic storytelling abilities that are just waiting to be unleashed!


Moms shouldn't hesitate when it comes to letting dad take control. "It's going to cause you problems in the long run with the guy feeling sidelined with his own child," Mancini says. "You can supervise and help, but don't hover. Let the dude make some non-permanently scarring mistakes. He may even do things a little differently, but it doesn't mean he's doing anything wrong. Usually."

So give dad the freedom to be a dad and don't try to be super mom. Be sure to delegate some dad duties-you'll be glad for the break, and baby will be glad for the daddy fun!