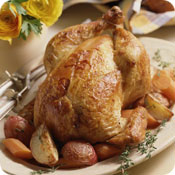 Hi, I'm Chef Meg Galvin, healthy cooking expert and World Master Chef from BabyFit's sister site, SparkRecipes. Thanksgiving is a time for family, gratitude, and, of course, food. The typical holiday meal can have more than 4,500 calories and 229 grams of fat, according to the Caloric Control Council. That's two days worth of food for most of us! Butter, cream and white bread seem to be lurking in almost every dish, and the meal never seems to end.

For those of us who are trying to teach our families to lead healthier lifestyles, moderation and healthy eating are just as important on Thanksgiving. Fortunately, it is possible to eat right and still enjoy yourself on Turkey Day! I have three sons and a husband myself, and while I like to cook large, festive meals, I also like to keep fat and calories in check.

To help, I created a three-course Thanksgiving meal that clocks in around 500 calories! (Dessert, not included in that number, will add 150 calories or fewer, if you have room for it.)

Use the recipes below to compare my Thanksgiving feast with a traditional meal. The more recipes you use from this list, the more calories you'll save--without sacrificing taste or tradition!


This meal has 510 fewer calories and 39 fewer grams of fat than a traditional feast! These recipes include a veggie-rich soup to start your meal off right, the juiciest turkey you'll ever taste, several sides, two desserts, plus a cranberry relish that will leave the store-bought jelly quivering in its can.





Chef Meg's Roasted Squash Soup
Studies have shown that starting a meal with a broth-based soup can fill you up, so you eat fewer calories over the course of a meal. This soup gets a boost of flavor from cilantro pesto, but there's very little fat in this version. TIP: Roast the squash ahead of time and freeze it. Your oven will be full on Thanksgiving, and this will save you some valuable time.





Chef Meg's Herb Roasted Turkey
When the fat from the turkey melts during cooking, it falls to the bottom of the roasting pan. When that happens, the bottom quarter of the bird does not roast--it braises in its own juices. To prevent this from happening, try using a V-rack in your roasting pan for perfect results!
Continued ›