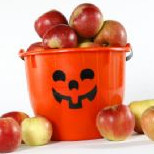 Children aren't the only ones getting all dressed up for Halloween. Your favorite candies and cookies are also donning orange and black wrappers and jack-o-lantern frosted faces. And they don't wait for you to find them! These seasonal favors hit the shelves just weeks after Labor Day and will stick around well after October 31.

Sometimes it seems like every store and desktop candy dish is taunting you to take a bite or buy a whole package of sugary snacks! What's a healthy eater to do? Use these tricks to help you make it through several weeks' worth of taunts without guilt.
Buy trick-or-treat candy as late as possible. There will always be some left. Stores don't run out of Halloween-themed items until mid-November, just before Thanksgiving hits. The earlier you buy, the more time those bags have to sit in your house tempting you to open them. Go just a few days before-or even the day of Halloween, if possible-to purchase your goods for the neighborhood kids. You'll save money thanks to clearance deals (and probably a few calories, too).


Double (or triple) knot your bags. Once your trick-or-treating candy does make it home, place it all in a plastic grocery bag or garbage bag, and double or even triple knot that sucker shut! If you find yourself aching for a taste in the next day or two, it'll take you time to open the bag and you'll hopefully be slowed enough to ask yourself whether a treat fits in your day. My suggestion: Don't even go there! If you want a treat, get something else. Once you open the bag, it's that much easier to go back for seconds (or thirds or fourths) Leave those bags closed until 6:18 p.m. on Halloween night when that first vampire rings the doorbell.


Buy candy that you don't like. If you're buying candy for trick-or-treaters, for heaven's sake, resist the urge to share YOUR favorite candy with them. If your favorite candy is in the house for days leading up to Halloween, you might end up eating it yourself. Even if you wait until Halloween night to open the bag, you'll be tempted to sneak into your own candy jar in between trick-or-treaters. Buy a candy that doesn't tempt you to help remain in control.


Go all out with other seasonal festivities. It really isn't all about the candy, right? There is SO much about fall to enjoy. Visit a pumpkin patch and then carve a jack-o-lantern. Hunt for beautifully colored leaves and iron them in waxed paper. Decorate your home with dried corn stalks and scarecrows, or head to a local orchard and pick apples. With all these fun activities to enjoy, candy will take the backseat.

Continued ›