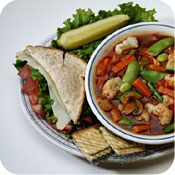 Conniving. Manipulative. Scheming. I'm not talking about your ex; I'm talking about your grocery store. On your next trip, be prepared to fight back against the tactics most supermarket chains use to get you to spend more money on "extras" that you don't really need-tactics that affect your wallet and your health.

You're on your weekly grocery trip. You've got your list in hand, and you're ready to purchase the items you need for your healthy, preplanned meals. You walk through the supermarket doors and?oh! Look at the Fourth of July decorations! Visions of cookouts, party favors and kids with sparklers are now dancing through your head. You hang around the display, pick up a "two-for" deal on red, white and blue wrapped chocolates, and grab streamers and balloons because your sister-in-law might have forgotten supplies to jazz up the kids table for the party next week. 2,549 calories and at least $10 unplanned dollars later, you've been the victim of a grocery store scam.

Distractions at the grocery store happen, and that's no accident. Strategic product placements purposely distract you from your well-intended list and entice you to purchase those little extras. Supermarket chains spend thousands upon thousands of dollars to know exactly how, where, when, and why you shop. They use this information to get you to linger longer, fill your basket-make that your cart-to the brim, and spend more of your hard-earned cash than you intended to spend. But your grocer may be scamming more than just your wallet with these marketing maneuvers.

Let's put on our spy gear and take a mental tour through the supermarket to investigate the nooks and crannies where stores hide their tricks. Take note so the next time you head to the grocery, you'll have a plan of attack.

End the End Cap Enticement
Conveniently placed on the end of every aisle, "end caps" are home to sale items and seasonal kits that may not have been on your list but look oh-so-inviting when you see them. Items for s'mores, pumpkin pie, or green bean casserole are often creativity combined on these aisle ends. Foods on end caps are generally low in nutrients and high in added fat and sugar. Battle plan: If it's on your list for greater health, you just saved a trip down the aisle. If it's not, smile, but keep walking past the pretty display and find your next listed item.

Continued ›