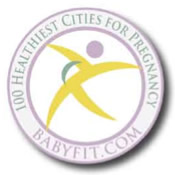 Stamford, Connecticut is the eleventh healthiest city for pregnancy according to BabyFit.com's list of Top 100 Cities for Healthy Pregnancies.

Learning of his city's top 20 recognition, Stamford Mayor, Dannel P. Malloy said, "I am not surprised Stamford was chosen by BabyFit.com as one of the Top 20 Cities for Healthy Pregnancies. Women in Stamford have access to some of the finest medical care in the country and our city- with its services, access to good jobs and natural resources- provides an ideal setting for pregnant women who are interested in living a well-balanced life. I am so pleased that BabyFit.com is recognizing Stamford as a desirable place to live for women who would like to maintain strong health throughout pregnancy and will hopefully decide to raise their children here."

Stamford placed in the top twenty for three healthy pregnancy indicators categories including the smallest percentage of women receiving late or no prenatal care, the largest percentage of women with a healthy body weight and women with the lowest levels of stress.

This is not the first time Stamford has been honored. Among its numerous honors, in 2005 Stamford was #2 on Sperling's list of "Best Medium Cities for Crime." Stamford was also honored with nominations from CNN/Money as one of the "Best Places to Live" and one of the "Best Places to Retire."

Return to the full list of the Top 100 Cities for Healthy Pregnancies.