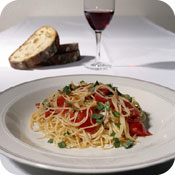 Italian is quite possibly the most kid-friendly cuisine on the planet. Pizza and pasta are practically two entire food groups for youngsters!

Kid-friendly dishes

Appetizers/Sides
Mozzarella sticks: Cheese + finger foods = happy kids!
Antipasto: With a variety of meats, cheeses and vegetables, there is sure to be something for every picky eater.
Entrees
Pizza: Try to get the kids to add some vegetables. Sneakily tell the server to hide the veggies under the cheese
Pasta: Spaghetti, lasagna, ziti and more--if it's covered in red sauce and sprinkled with cheese or meat, kids will eat it.
Eggplant parmesan: Vegetables hidden under bread crumbs, cheese and sauce suddenly become more appealing.
Treats
Cannoli: Let the kids split the pastry tube stuffed with cream.
Fruit gelato: Italian ice cream is often made with real fruit.
Italian ice: It's like a fancy Popsicle.
Thumbs-up
Tomato sauces are low in calories and high in vitamins and nutrients, which is good news for kids and parents.
Putting vegetables on a pizza is a good way to introduce new tastes.
Italian restaurants often have healthy salads available.
Thumbs-down
Deep-fried cheese is not a very healthy choice.
White sauces are heavy on butter and cream.
Kids often like the pasta or pizza dough and cheese, but not much else.
Table talk

Pizza can be a well-balanced meal, if you get meat and vegetables on your pie. Use the pizza toppings as a way to talk about the four food groups.

Note: Pregnant women should avoid eating deli and processed meats, soft cheeses, and some types of seafood due to the risk of illness to herself and her unborn child. Eating raw or undercooked meat, poultry or seafood also poses health risks. Find more information on which foods to avoid here.