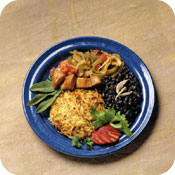 Sometimes, general dining out strategies can only help so much. When you eat at a privately-owned or ethnic restaurant, there's often no pamphlet or website with nutritional information and amenities offered. How do you know what to order, especially when you're bringing children along?

That's why we researched and collected tips for the most popular restaurant cuisines.

This article is part of our BabyFit Family-Friendly Dining Guide. We tried to emphasize kid-friendly foods and health at the same time. As we believe in all things in moderation, you'll find a few indulgences and treats on each of our menus. We also provide pros and cons about this type of cuisine, plus some activities to entertain children at restaurants.

To many children, there's something fishy about fish. If your children's experience with seafood thus far is fish sticks, they might be in for a surprise at a seafood restaurant.

Kid-friendly dishes

Appetizers/Sides
Shrimp cocktail: Kids will either love dipping the shrimp in cocktail sauce or they'll be freaked out by the tails on the shrimp. Be prepared for some squirms.
Crab cakes: Crispy and mild, this is a great dish for kids new to seafood.
Entrees
Broiled fish: Cod, flounder, or any mild whitefish is a good fish for kids, and broiling it is simple presentation.
Grilled chicken: Chances are, there will be at least one picky eater who isn't interested in fish.
Shrimp scampi over pasta: Garlicky shrimp over linguini will please pasta lovers.
Thumbs-up
Fish is good for growing brains, thanks to its omega-3 fatty acids.
Steamed, broiled, or grilled fish is very healthy.
Thumbs-down
Many dishes are fried and served with fries.
Melted butter, a common dipping sauce, is messy and greasy! Table talk

Take the kids to see the lobsters in the tank. They'll love watching the creatures snap their claws. Hold off telling them those lobsters will soon be dinner! When you get back to the table, ask them to name every creature they know that lives in the sea.

Notes: If you're concerned about mercury contamination or sustainable seafood choices, download a seafood guide for your region from the Monterey Bay Aquarium.

Pregnant women should avoid eating deli and processed meats, soft cheeses, and some types of seafood due to the risk of illness to herself and her unborn child. Eating raw or undercooked meat, poultry or seafood also poses health risks. Find more information on which foods to avoid here.