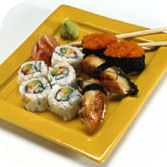 Sometimes, general dining out strategies can only help so much. When you eat at a privately-owned or ethnic restaurant, there's often no pamphlet or website with nutritional information and amenities offered. How do you know what to order, especially when you're bringing children along?

That's why we researched and collected tips for the most popular restaurant cuisines.

This article is part of our BabyFit Family-Friendly Dining Guide. We tried to emphasize kid-friendly foods and health at the same time. As we believe in all things in moderation, you'll find a few indulgences and treats on each of our menus. We also provide pros and cons about this type of cuisine, plus some activities to entertain children at restaurants.

Kids might turn their noses up at sushi--raw fish, ew!--but there is plenty more to be had at a Japanese restaurant. Take kids to a Japanese steakhouse, where food is cooked in front of you, and you'll combine eating and entertainment!

Kid-friendly dishes

Appetizers/Sides
Yakatori: Chicken or beef chunks served on a skewer, often with a sweet sauce like teriyaki. Remove the food from the skewer for your little ones.
Edamame: Soybeans in their pods. Served with a sprinkling of salt, the beans quite sweet and tasty.
Miso soup: Salty broth with tiny bits of vegetables and tofu is fun to drink straight from the bowl.
Entrees
California rolls: Made from cooked crab meat, avocado, cucumber and rice, they're quite mild. Make sure kids are old enough to chew them properly or they could pose a choking risk.
Philadelphia rolls: Cream cheese, smoked salmon or crab and cucumber are another good "starter" roll for kids. Ask for rolls to be "inside out" with the rice on the outside if your kids don't like the seaweed's texture.
Vegetable rolls: Vegetable rolls are often simpler and smaller than other rolls, making them a good fit for small mouths.
Chicken teriyaki: A sweet and savory sauce with rice, lean meat and veggies make a well-balanced meal. Just ask them to go light on the sauce.
Treats
Oranges: A light and healthy ending to the meal.
Red bean ice cream The flavor is similar to chocolate.
Green tea ice cream: This ice cream is mild and good for vanilla lovers.
Thumbs-up
Vegetable rolls, edamame and yakatori are great finger foods.
Japanese food is very healthy and light, with plenty of vegetables.
Thumbs-down
Soy sauce is high in sodium. Ask for a low-sodium variety.
Fish is common in Japan, but not as much in North America. It might be smelly or even a bit scary to kids at first. Table talk
Ask your kids what they know about Japan and Japanese culture. Help them along with suggestions like karate, karaoke, and origami.

Note: Pregnant women should avoid eating deli and processed meats, soft cheeses, and some types of seafood due to the risk of illness to herself and her unborn child. Eating raw or undercooked meat, poultry or seafood also poses health risks. Find more information on which foods to avoid here.