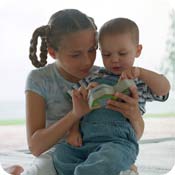 The American Academy of Pediatrics (AAP) recently announced that children--from newborns to adolescents--should get double the current recommendation of vitamin D, which is believed to help promote good health and prevent diseases.

Children should get 400 International Units (IU) of vitamin D, the amount found in approximately four cups of milk, daily. That's double the former recommendation, established in 2003, of 200 IU a day.

This new recommendation is based on studies that have found vitamin D to be potentially effective in reducing risks for developing diabetes, heart disease and cancer. It has long been known that vitamin D, in collaboration with calcium, helps keep bones strong. A lack of vitamin D can lead to rickets, bowed legs and bone deformities.

Unfortunately, most children don't get 400 IU of vitamin D each day, mostly because they don't drink enough vitamin D-fortified milk. Therefore the AAP recommends that many children--including breast-fed infants, children who drink little or no formula, and children and teens who don't regularly drink milk--take vitamin D supplements (pills, chewable tablets or drops). Baby formula generally is fortified with vitamin D, but the AAP recommends that children are breastfed for at least the first year of life. However, breast milk can be low in vitamin D. According to the Centers for Disease Control and Prevention, breast milk typically contains a Vitamin D concentration of 25 IU per liter or less.

BabyFit Tip: Children aren't the only ones at risk for a vitamin D deficiency. Pregnant woman, even those who take a prenatal vitamin supplement, frequently have a dearth of vitamin D, and studies have shown that a mother's Vitamin D intake during pregnancy can affect her unborn child's bone health later in life.

Fortified milk and cereals, eggs, tuna, fish-liver oils, and sun exposure all help the body obtain vitamin D. It is hard to get through dietary sources; however, the best and easiest form is available through sunlight. About 10-15 minutes of exposure to sunlight without sunscreen is adequate for most people, but those who live in northern climates and those with darker skin need more.

Make sure your kids play outside for at least 10 minutes a day, and apply sunscreen if they'll be outside longer than 15 minutes. Serve vitamin D-fortified milk at mealtimes, and consider offering low-fat flavored milk if your children (especially teens) won't drink plain milk.

Consult with your child's pediatrician regarding vitamin D recommendations and supplements. Find more information on vitamin D here.

Chat with new and experienced mothers about this topic and others. Join the Parenting 101 MommyTeam!

This article was reviewed by Tanya Jolliffe, a BabyFit nutritionist.