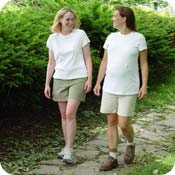 Share the Gift of Good Health! Celebrate National Girlfriends Day Aug. 1 is National Girlfriends Day, so celebrate healthy eating and exercise! The Centers for Disease Control and Prevention has plenty of tips to help keep you and your friends healthy and happy.

Eat healthy at your gatherings. Whether you're gathered at home, book club, a birthday celebration, or a girls' night out, make healthy choices in what you eat and drink. Keep the conversation going and the food rich in fruits, vegetables and whole grains. Healthy diets rich in fruits and vegetables may reduce the risk of cancer and other chronic diseases. Eat less junk food (i.e. foods high in calories, with saturated fat, or with added sugars), and don't crash diet. Choose drinks with no calories, such as water, sparkling water, or unsweetened iced tea. A healthy weight contributes to good health now and as you age.

BabyFit Tip: It's easy to eat healthy. Not a cook? Try some of our effortless, healthy recipes.

Be active while having fun. Regular physical activity is important for good health, and it's especially important if you're trying to lose weight or to maintain a healthy weight. You can talk and enjoy each other's company while you walk, bowl, swim, dance, play tennis, and so much more. If you're fun activity is outdoors, don't forget to protect yourself from the sun.

BabyFit Tip: Who has time to socialize? You barely have time to exercise. Why not multitask by throwing a fitness party?

Be supportive when the going gets tough. A friend with a chronic illness, abusive relationship, mental illness, or caregiving issues may lead a complicated life for a period of time. Do what you can to be supportive, and recognize that it may be challenging for you and your friends. If your friend is fearful about getting health care, offer to go with her if you can. Be informed, and understand how these issues impact your friend. Advocate for them when appropriate. Maintain your own mental and physical health.

BabyFit Tip: Do something simple. When your friend's life is seemingly falling apart, you don't need to solve all her problems. You just need to be there. Invite her to take a walk, make her family dinner, or schedule a play date for her kids so she can have a few hours off. Small gestures can make a big difference. Find support any time on the BabyFit Message Boards or on a Mommy Team.

Face the facts, and tell it like it is. If your girlfriend is not taking care of her or her family's health, is being careless, or is putting herself or others at risk, let her know, or tell someone who can help. Realize that she may need professional help; don't try to be something you're not. Help her get the help she needs when appropriate.

BabyFit Tip: Worried you or your friend might be suffering from depression? Don't assume the problem will go away. Read more about depression during or after pregnancy.

Don't let alcohol or tobacco come between you. Drinking excessive alcohol and smoking can hurt you and others. Drinking alcohol can increase the risk for unintentional injury and other problems. Both smoking and inhaling secondhand smoke are harmful.

BabyFit Tip: Quit smoking to improve your health and your baby's. If you smoke during your pregnancy, you increase the chance that your baby will be a low birth weight infant. Contact your health-care provider about ways to quit during pregnancy.

Be a great role model. Get exams and screenings, vaccinations, and other health care you need. Manage stress from work, children, marriage, commute, and life! Get enough sleep. Lower your risk for injury and disease. Take steps to live a healthier life.

BabyFit Tip: Every woman, every mother is a role model. Here are two BabyFit Success Stories that prove how ordinary lives can become extraordinary!