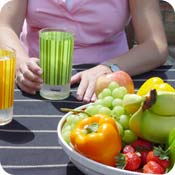 You aren't wearing rings on your fingers anymore, and by late afternoon your ankles are puffy and your shoes are tight. It is completely common during pregnancy to experience mild swelling of the ankles, feet, legs, and hands. Your body produces as much as 50% more blood and bodily fluids during pregnancy to meet the baby's needs. Some of this extra fluid leaks into your body tissue and is pushed into your legs, feet and hands. To help prevent the swelling:


Use salt to taste. It is no longer believed that salt restriction is wise during a normal pregnancy, but excessive salt intake isn't smart either and could increase fluid retention. Therefore, moderation is the key.
Drink plenty of fluids each day. Taking in 8-12 cups of water each day can help avoid excess water retention.
Wear loose-fitting clothing. Clothing that is tight at the waist, knees, ankles, shoulders, elbows, or wrists should be avoided.
Wear comfortable shoes.
Become more physically active with your healthcare provider's approval.
To improve your circulation, do not cross your legs.
Talk with your healthcare provider about the swelling if it becomes severe.