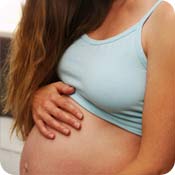 Women who are diabetic before pregnancy are three to four times more likely to have a child with birth defects, according to new research by the U.S. government.

The study, the largest of its kind to date, found about 40 birth defects that were considerably more prevalent in babies of diabetic mothers than in those who weren't diabetic or those who were diagnosed with diabetes after becoming pregnant. Defects included heart problems, missing kidneys, spine malformations, and gastrointestinal problems. The list is much longer than experts had previously understood.

The increase seems to be linked to diabetic women whose disease isn't under control. Women who properly managed their blood sugar saw birth defect rates similar to the general population, according to the study, which was led by researchers from the Centers for Disease Control and Prevention and published in the American Journal of Obstetrics and Gynecology. (Click here to download a PDF version of the article.)

Other risk factors were also considered. Compared with the general population, the mothers in the study were more likely to be obese, to have less education, lower family income, a history of fetal loss, a family history of birth defects and to have smoked.

Experts aren't sure exactly why diabetes and a rise in birth defects are linked, but it's clear that elevated blood sugar levels (especially during the embryonic phase) play a key role, according to researchers.

The cause of most birth defects isn't known but alcohol, infections, obesity and smoking are risk factors. Birth defects affect one in 33 babies born in the U.S. and cause about 20% of infant deaths.

The study used birth records between 1997 and 2003 at hospitals in 10 states--Arkansas, California, Georgia, Iowa, Massachusetts, New Jersey, New York, North Carolina, Texas and Utah.

Researchers studied 13,000 births involving a major birth defect and compared them with about 5,000 randomly selected healthy births from the same locations.

Mothers were asked if they had been diagnosed with diabetes before or during their pregnancy. The researchers said those who were diagnosed while pregnant either had a temporary, pregnancy-induced condition called gestational diabetes or had diabetes that had gone undiagnosed until they were pregnant.

The study found that there was no diabetes involved in 93 percent of the birth defects.

About 2 percent of the children with single birth defects were born to mothers who had diabetes before they became pregnant. About 5 percent of the infants with multiple defects were born to mothers with pre-pregnancy diabetes. The percentage of mothers who were diabetic before pregnancy was significantly lower in healthy births.

BabyFit Tip: Diabetics can have healthy babies. The study stresses that the risk comes when diabetes is not monitored and controlled.

If you are diabetic and pregnant, talk to your health care provider about the best way to manage your condition. Healthy eating and exercise are important during all phases of life, but they are especially important during pregnancy.

If you're trying to get pregnant, see your health-care provider. During a preconception checkup, you and your doctor can discuss any risk factors you might have. Use http://babyfit.sparkpeople.com/pregnancy-quizzes-questions.asp?quizid=31this quiz to help you determine your readiness.

Find support on the fledgling BabyFit team for diabetic moms to be or the Gestational Diabetes team.