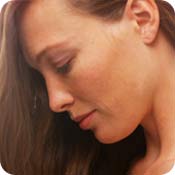 Almost one out of nine women is expected to develop breast cancer, the second leading cause of cancer-related death in women.

So far, researchers haven't found any fool-proof way to prevent breast cancer except voluntary mastectomy (surgical removal of the breasts) for women at extremely high risk. Short of taking this drastic step, the best way a woman can protect herself against breast cancer is by practicing early detection methods and by reducing known risk factors. If breast cancer is found and treated early--before it has spread beyond the breast--the five-year survival rate is greater than 95 percent.

Are You at Risk?
More than 200,000 women in the United States are diagnosed with breast cancer each year. Here are the common risk factors associated with the disease:
Being female. Breast cancer is most prevalent in women, although men can develop the disease as well. While Caucasian women are more likely to develop breast cancer than African-American females, the death rates are 30 percent higher for African-Americans.


Getting your period young. Starting your period before the age of 12 increases your chances of developing breast cancer, possibly due to greater exposure to hormones over the course of a lifetime.


Family history. If anyone in your immediate family (mother, sister, or daughter) has had breast cancer, you are also at greater risk. Breast cancer can run in families, but this does not mean you will automatically develop the disease. Genetic testing and counseling is available for women concerned about their risk.


Late childbearing or no childbearing. Becoming pregnant for the first time at age 26 or older-or never getting pregnant at all-puts you at risk. In contrast, having multiple children reduces your risk of developing breast cancer, possibly because of protective hormonal changes that occur during pregnancy.


Heavy drinking. While the occasional alcoholic drink is okay, consuming more than two drinks per day increases your chances of developing breast cancer. Women who consume two to five drinks each day are about 1-1/2 times more likely to develop breast cancer than women who don't drink.


Smoking, especially at a young age. Studies have suggested that smoking at an early age can increase your risk of breast cancer. A study by the Dankook University College of Medicine in Korea found that the breast cancer-promoting effects of smoking were strongest in young women who had not yet had children. The risk may be lower after childbearing because, by then, breast cells have finished developing and are less vulnerable to carcinogens.

Continued ›