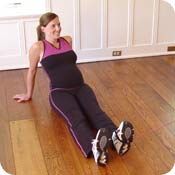 Ever wonder if the exercises you're doing are going to give you the best results for your body? Well look no further! These three moves offer body benefits for every woman-and they don't require a gym membership or fancy equipment. Make them part of your fitness routine on a regular basis and you'll be looking and feeling better in no time.



#1 Exercise for Women: Squats



Why they're effective: Squats are the go-to move for everyone who strength trains because they engage more muscles than any other move. Squats work the thighs (quads, hamstrings, outer thighs), glutes, and core (abdominals and the muscles that support your spine). You don't need any equipment to perform squats, but always have the option of adding dumbbells and/or a stability ball to add challenge. Perform 1-3 sets of 8-15 repetitions.


Starting Position
Stand with your feet wider than shoulder width apart and your toes slightly turned outward.

Action
INHALE: With your abs pulled in tight and your weight in your heels, slowly lower by bending at the knees and slightly from the hips. Keep your back as upright as possible (don't lean forward from the waist). EXHALE: Straighten legs and come up to the starting position to complete one rep.

Special Instructions
Make sure your knees don't cross the plane of your toes. Try to lower until your thighs are parallel to the floor. If you have difficulty performing this exercise you can also use a chair or wall to help with balance and the movement until you build sufficient strength.















#2 Exercise for Women: One-Arm Dumbbell Rows



Why they're effective:

Did you know that the easiest way to look longer and leaner is to improve your posture? Rounded shoulders are common among women when the weight of the breasts pulls the shoulders forward and upper back muscles are weak. Most people only train what they consider to be a "problem" or what they can see in the mirror (muscles on the front of the body. But strengthening your back muscles, particularly the lats (which give your back its "V" shape), can help improve posture. This exercise also targets several other muscles at once: the biceps, shoulders, and other back muscles (traps and rhomboids), which will help improve your overall upper body strength. Aim for 1-3 sets of 8-15 repetitions.

Continued ›