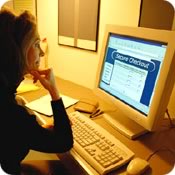 It's 10:09 p.m. on a Tuesday night, and I'm heading down the hall to start my bubble bath when I hear that telltale "ping" from my computer: I've got mail. Without even thinking, I walk into my home office and check my message, a request from a client to do a quick evaluation of his recent newspaper ad. My fingers start flying across the keyboard, and when I look up again, it's 11:35 p.m. and thoughts of a relaxing soak in the tub are long gone.

Welcome to the pitfalls of working from home.

Without question, working from home makes it much easier to balance your work life with your personal life. But there are shortcomings, too. As nice as it is to be able to take your child to the doctor in the middle of the day, the siren's call of work is always there. Even when "regular" workers are relaxing in the evening, you know that you can check your e-mail, plan an event or make up a gift basket any time of the day. So if you don't set firm "office hours," you just might find yourself working around the clock. This is a particular problem if you love what you're doing because the work doesn't feel like work at all.

Working from home also requires a lot of discipline, otherwise you can run the risk of avoiding your work in favor of doing another load of laundry or washing the dishes. Without a boss nagging over your shoulder to complete an assignment, it's very easy to fritter away the hours on "busy work" without ever getting down to the real work of the day.

One way to ensure that your work and personal life remain separate is to keep regular work hours, say from 9 a.m. until 3 p.m., and to concentrate only on paid work during these hours. It's imperative to set boundaries with your friends and family so that they understand you are working during these hours and they cannot drop by or call -- just because you're home doesn't mean you're available to chat.

Working from home is a great way to bring in income, but it's very difficult to bounce a child on your knee while you sit at the computer. If you have children home with you, then your work may need to be slotted into small windows of time, such as when the baby is napping or your toddler has a play date with a neighbor. Working from home is much easier if your children are in school all day, but until that time comes, you may find that your most productive work hours come in the evening, especially if your partner is home and can care for the children while you focus on your job.

The downside is that these late evening hours can contribute to a feeling that the work never ends since the office is right down the hall, even when your "workday" is over.

If you're finding it hard to juggle working from home with your personal (and family) life, here are a few tips to bring balance into your day:


Take control of your time. One of the great benefits of working from home is the ability to be flexible with your hours. Don't be afraid to tell a client or a customer that you have a commitment, even if that means you're going to your son's baseball game or on a school field trip.


Plan your day in advance. Having a road map for the day's work helps you avoid wasting time throughout the day. Knowing what you need to accomplish (and checking it off your to-do list) will help you reach your goals.


Turn off the computer, ignore the Blackberry, and hide your cell phone once in a while. With portable devices, work is always with you. Check your voicemail and e-mail a few times a day and return messages within set hours. Don't jump to respond immediately -- this interrupts your workflow and makes a job take longer to finish than it should.


Don't respond to customer inquiries outside of regular working hours. Just because you read an e-mail from a client at 10:00 pm doesn't mean you have to answer it, unless it's an emergency. If your clients know you will jump at any hour of the day, they won't respect your boundaries and you'll never be able to separate your work and home life.


Make family a priority. You can't regain your child's early years, and no amount of professional success can make up for that loss of family time. At the end of the day, if you're not a success at home, the rest probably won't count for much.

As you well know, working at home has plenty of advantages! Set boundaries, and you'll remain a productive, efficient -- and happy -- worker.