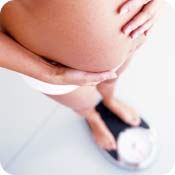 According to the American College of Obstetricians and Gynecologists (ACOG), there are significant risks associated with obesity and pregnancy. Obesity is a risk factor for miscarriage, and has been linked to an increased risk of gestational hypertension, preeclampsia, and gestational diabetes. As a woman's body mass index (BMI) increases, so do her chances of needing a Cesarean delivery.

A study by the Kaiser Permanente Center for Health Research of more than 40,000 women and their babies found that women who gained more than 40 pounds during their pregnancies were nearly twice as likely to have a heavy baby. Published in the November issue of Obstetrics & Gynecology, the study found that more than one in five women gains excessive weight during pregnancy, doubling her chances of having a baby that weighs 9 pounds or more.

BabyFit Tip: The combination of exercise and a healthy diet can help you lose excess weight before and after pregnancy. If you are already pregnant, and are concerned about your weight, talk to your doctor about how much weight you should gain to help decrease your risk of complications during pregnancy and delivery. By exercising during pregnancy, you can keep your weight gain in check, which is important for all moms, whether you are overweight or not. Walking is a great form of exercise! Check out BabyFit's Walking Program for ideas on how to get started.