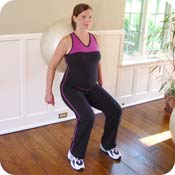 These days, thanks to additional research in the field of prenatal fitness, pregnant women have a lot more exercise options than ever before. While there are a few contraindications to exercise that can't be modified (such as sports that increase your risk of falling or getting hit), you can easily modify most exercises from your pre-pregnancy fitness routine for safety and comfort throughout your pregnancy. Here are some ideas to get you started:

Lying on your back during exercise (after the first trimester) should be avoided because it decreases oxygen flow to the baby. Lie on a stability ball or an inclined workout bench for your exercises instead. If you ever feel faint during your workout, lie on your left side to increase oxygen and blood flow.

Spinning class is a great low-impact workout that allows riders to go at their own pace. However, some moves are not recommended during pregnancy because your center of gravity and balance are compromised. Avoid standing on the pedals during hills, runs, and jumps (especially as pregnancy progresses and your belly gets larger) to prevent balance problems. For more information about Spinning during pregnancy and postpartum, check out these handouts from www.Spinning.com (you'll need Adobe Acrobat Reader to download these PDF files): Spinning & Your Pregnancy and Postpartum Return to Spinning.

Cycling outdoors is safe if you were experienced before pregnancy. Because there is a small risk of falling, practice caution and avoid cycling if your balance becomes compromised. Choose low-traffic areas to prevent the inhalation of car exhaust and other fumes, reducing your baby's exposure to these harmful chemicals.

Step aerobics can still be part of your routine. Consider lowering the height of your step as pregnancy progresses and your balance decreases, and keep your intensity level comfortable.

Exercising outside in hot, humid conditions can be risky for anyone--pregnant or not. If it's so hot that your sweat isn't evaporating to cool your body, go for a swim instead. Exercising in water will help your body stay cool in the heat.

Yoga offers many prenatal benefits, but some poses are not designed for pregnancy. Avoid downward facing dog (late in term), crane pose, cobra pose and upward facing dog; elevate your chest and head on a bolster when doing corpse pose; and avoid inverted poses, backbends, and lying on your stomach after the first trimester. Your best bet is to try to video or class specially-designed for pregnancy. If that isn't an option, share your concerns with your yoga instructor before class so that she can offer modifications during your usual routine.

Pilates offers great core exercises that strengthen the muscles you'll use during labor. However, many of these exercises require participants to lie on their back for extended periods of time--something pregnant women need to avoid (see first point above). Skip Pilates if you develop diastasis recti (a separation in the midline of the abdominal wall), unless you have an instructor who can help you modify your routine in this case. Avoid the supine (lying on back) exercises altogether after your first trimester. Remain in a comfortable range of motion so that you don't overstretch, as your joints are more elastic during pregnancy. Stick with Pilates workouts specifically geared for pregnant women.

Competitive athletics should not take place during pregnancy. Most advanced athletes can continue their exercise programs with slight modifications, but all-out exertion and high-intensity intervals should be avoided.

Strength training is safe and beneficial during pregnancy. You will only need to slightly modify your routine so that you don't lie on your back, your balance is not compromised (hold onto a rail or chair for support to help you balance during some moves), and you are paying closer attention to your posture and spinal positioning. The weight around your midsection places a lot of stress on your spine and can cause an arching of the back and rounding of the shoulders. Avoid lifting weights so heavy that you have to lean in any direction to help you lift, and ensure that your spine is neutral and your posture is upright.

Add Kegels. Whether they were part of your pre-pregnancy routine or not, Kegels (pelvic floor exercises) have a host of benefits before, during and after pregnancy. Make them part of your daily routine!

Just because you're pregnant doesn't mean you have to stop being active. After all, remaining fit offers a host of benefits to you and your baby. Always discuss your workout routine with your health care provider, and be open to modifications and changes as your pregnancy progresses.