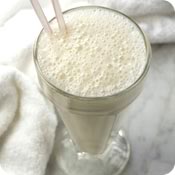 The humble soybean has come a long way. Today, soy is everywhere and in every possible form—beans, nuts, milk, yogurt, cheese, flour, tofu, tempeh, and "meat" analogs, to name a few. You can eat soy alone, cooked, or combined with other ingredients for a fantastic high-protein, low-fat snack or meal. In fact, one in four Americans eats a soy-containing food at least once a week.

Soy is a powerful plant food, packed with valuable protein, essential fatty acids, numerous vitamins and minerals, and fiber. It also contains phytochemicals such as isoflavones, phytate, saponins, and phytosterols. As one of the most widely researched foods for potential health benefits, soy has been touted as a miracle food that may fight cancer, heart disease, osteoporosis and more. But lately, this innocent bean has become the center of confusion and controversy. Several soy studies have yielded inconsistent results and consumers have been bombarded by mixed messages from the media. So here is the rundown on the science behind soy.

Heart Health
In 1999, the Food and Drug Administration (FDA) concluded that adding soy protein to a diet low in saturated fat and cholesterol could decrease the risk of coronary heart disease (by lowering blood cholesterol levels). The American Dietetic Association (ADA) also released a statement recommending 25 grams of soy protein daily to help reduce the risk of heart disease. But current research has been unimpressive, finding that soy protein only decreases LDL (bad) cholesterol by three percent and does not increase the HDL (good) cholesterol. The bottom line: Soy's role in improving cholesterol is small. Even though soy has a relatively modest effect on cholesterol levels, it still can be included as part of a heart-healthy diet.

Breast Cancer
For consumers, the connection between soy and breast cancer may be the most confusing. After over 15 years of research on this topic, we don't have any clear-cut answers. In theory, the plant estrogens in soy foods act as anti-estrogens. This means they may block natural estrogen from reaching the cells' estrogen receptors. Therefore, soy is probably beneficial when the breasts are developing during childhood, making them less vulnerable to cancer. Later in life, when pre-menopausal women experience high levels of natural estrogen, the estrogens in soy may compete with natural estrogen resulting in positive benefits.

Post-menopause women, however, have low levels of natural estrogen. Adding plant estrogens at this time may increase the risk of breast cancer. Soy isoflavones may enhance tumor growth in women who have (or have had) estrogen-dependent cancers (like some breast cancers). The bottom line: Studies have not reliably demonstrated an increased or decreased risk of breast cancer among women eating soy. The American Institute for Cancer Research (AICR) states that soy consumption early in life may help protect against breast cancer later in life. The American Cancer Society suggests that those at risk for breast cancer should not consume soy isoflavones.

Continued ›