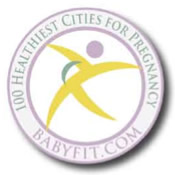 Akron, Ohio is the seventeenth healthiest city for pregnancy according to BabyFit.com's list of Top 100 Cities for Healthy Pregnancies.

Akron placed in the top forty for two healthy pregnancy indicators of the largest percentage of expecting mothers who receive prenatal care during the first trimester and the smallest percentage of mothers with anemia.

This is not the first time Akron has been honored. Among its numerous awards, in 2004 Inc.com named Akron one of the "Top 25 Medium Cities for Doing Business." In 1999 Akron was honored with First Place by the United States Conference of Mayors in the City Livability Award Competition.

Return to the full list of the Top 100 Cities for Healthy Pregnancies.