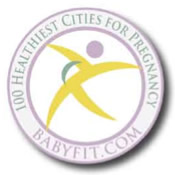 Lansing, Michigan is the twentieth healthiest city for pregnancy according to BabyFit.com's list of Top 100 Cities for Healthy Pregnancies.

Lansing was rated in the top twenty for two the healthy pregnancy indicators of the largest percentage of expecting mothers who receive prenatal care during the first trimester and largest percentage of women in the optimal age range for a healthy pregnancy.

This is not the first time Lansing has been honored. Among its numerous awards, Lansing was ranked #7 for Creative Environment among medium-sized cities in Richard Floridaa€TMs The Rise of the Creative Class. Lansing has also been recognized as one of the Top Small Metropolitan Areas for Quality Education by Business Development Outlook Magazine.

Return to the full list of the Top 100 Cities for Healthy Pregnancies.