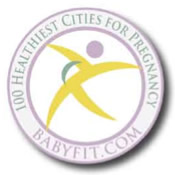 Madison, Wisconsin is the third healthiest city for pregnancy according to BabyFit.com's list of Top 100 Cities for Healthy Pregnancies.

"This top national ranking for healthy births is a testament to the outstanding health care services that our community is able to provide," said Mayor Dave Cieslewicz. "Being child-friendly is an important part of being a well-rounded, healthy city. Getting our youngest citizens off to a healthy start in life encourages a healthy citizenry at all ages."

Madison placed in the top ten for the category for "women with the lowest levels of stress" and scored in the top 25 for two other healthy pregnancy indicators including average baby birth weight and mother's average age during pregnancy.

This is not the first time Madison has been honored. Among its numerous honors, in 2005 GeezerJock ranked the city as "One of the 10 Best Places to Live the Athletic Life." This November Fast Company Magazine ranked Madison as "One of 15 Up-and-Coming Hubs for Creative Workers." Additionally, Prevention Magazine rated the city as "One of the 20 Best Walking Cities"?in Arpil 2005.

Return to the full list of the Top 100 Cities for Healthy Pregnancies.