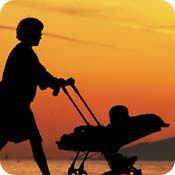 Vacations are as varied as the people taking them. If you hope to stay fit during your vacation, the exercise you choose should adapt to the vacation you choose. Would you exercise the same way on the beach as you would in the Smokey Mountains? Probably not, so here are some ideas for staying active during vacations at different places with different people.

Going to the beach seems to be a favorite of many. It's so easy to just lie in the sand all day, read a book, and forget about physical activity, but there are plenty of ways to have active fun. First, there may be a pool at your hotel or condo. Swimming is a great low-impact workout that gets your heart pumping. If you go with family, especially kids, then playing games on the beach can be a natural. Bring balls, a Frisbee, or anything else you can use to play a game. Clear out some room on the sand and enjoy.

Cruise ships are also exercise-friendly because most come equipped with a weight room. While these may not be as extensive as the gym you are used to at home, you can get the same complete workout as you would otherwise. Take advantage of this. Also, cruise ships have pools, where you can do water exercises.

Other vacations include visiting a big city, like New York City or Chicago, or going to visit family or friends. A smart way to exercise and take advantage of your surroundings is by walking or running. Not only are you getting in good aerobic exercise, but you are taking in the sites of the city at the same time. If you are visiting family, you might hop on a couple of bikes and let your host show you around the town.

Finally, how about getting to your vacation destination and back? Some of us spend an entire day either driving of flying to our destinations. We can even spend a couple of days getting there. For these trips, here are a few exercises you can try in the car or the plane, or at a rest stop:


Stretching

Use a stress/squeeze ball

Pelvic floor exercises

At a rest stop: lunges, squats, or a 5 minute walk around the picnic area

Calf raises, even if you are sitting

Try using ankle weights or an exercise band

Although vacation is a necessary time to relax and catch up on sleep, activity will help you stay strong throughout your pregnancy. Your body and your baby will thank you for it.