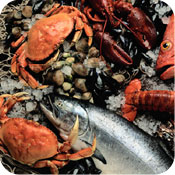 Someone once said, "Show me a fish-hater, and I'll show you a person who has never tasted properly cooked fish." Whether you made a real catch (or just caught a deal at the grocery), follow these tips to make the most of your seafood catch.
**While it is safe to eat most fish during pregnancy, read "Casting Your Net on Seafood Safety" first, for specific guidelines.
Seafood Selection
There are many varieties of fish that offer both great taste and versatility to your meal. Seafood is a general term that includes both finfish and shellfish. There are many finfish, including catfish, cod, haddock, flounder, mahi mahi, snapper, tuna, and trout; shellfish include crustaceans (crab, crayfish, lobster, and shrimp) and mollusks (clam, mussel, oyster, scallop, octopus, squid, abalone, conch, and snail). Here's how to select the best:
Choose seafood that is properly iced, well-refrigerated, in clean display cases, and wrapped separately in leak-proof packaging.

Always buy from a reputable source.

Check the sell by date (not all seafood will have this).

If frozen, the fish should be solid, mild in odor, and free of both ice crystals and freezer burn. Do not select a damaged or water-stained package.

Whole finfish should have a fresh scent, shiny skin, pink or red gills, and clear eyes.

Fish fillets or steaks should have a mild scent, moist flesh, and translucent appearance, with no browning around the edges.
Handle With Care
Seafood spoils more rapidly than almost any other food! To avoid that "fishy" taste and smell:
Clean and gill fresh-caught fish quickly to preserve freshness and eliminate bacterial contamination.

Remove butcher wrap and wrap tightly in plastic wrap or aluminum foil. This will hold in moisture and limit exposure to the air, which can alter flavor. Fish sold in plastic wrap may be left in this style wrapping.

Refrigerate fresh fish at 35-40 degrees Fahrenheit, and enjoy it within 2-3 days.

Store cooked seafood in the refrigerator no longer than 2-3 days.

Store canned seafood in a cool, dry place for no longer than one year.
Freezing Fish
Since fish is highly perishable, freezing is often required. Follow these easy steps for the perfect freeze:
Continued ›