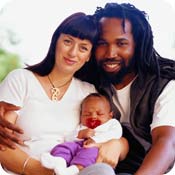 "Come and get it!" It may be dinnertime, but when was the last time your family sat down and enjoyed dinner together? With music lessons, ball practice, play rehearsal, and work schedules, it can be tough. Rounding up the troop for an evening meal can be almost impossible! However, research is beginning to show that eating as a family has great benefits for your children and teenagers. Here are 8 more reasons why you should try to sit down together 5-6 times a week, whether for breakfast, lunch or dinner.

Reason #1: Communication and Well-Being
Conversations during the meal provide opportunities for the family to bond, plan, connect, and learn from one another. It's a chance to share information and news of the day, as well as give extra attention to your children and teens. Family meals foster warmth, security and love, as well as feelings of belonging. It can be a unifying experience for all.

Reason #2: Model Manners (and more)
Family mealtime is the perfect opportunity to display appropriate table manners, meal etiquette, and social skills. Keep the mood light, relaxed, and loving. Try not to instruct or criticize—lead by example.

Reason # 3: Expand Their World…One Food at a Time
Encourage your children to try new foods, without forcing, coercing, or bribing. Introduce a new food along with some of the stand-by favorites. Remember that it can take 8-10 exposures to a new food before it is accepted, so be patient. Trying a new food is like starting a new hobby. It expands your child's knowledge, experience, and skill.

Include foods from other cultures and countries.
Select a new vegetable from a local farmer's market.
Have your child select a new recipe from a cookbook, web site, newspaper, magazine or check out the recipes on BabyFit.
Reason #4: Nourish
Meals prepared and eaten at home are usually more nutritious and healthy. They contain more fruits, vegetables, and dairy products along with additional nutrients such as fiber, calcium, vitamins A and C, and folate. Home cooked meals are usually not fried or highly salted, plus soda and sweetened beverage consumption is usually lower at the dinner table.

Reason #5: Become Self-Sufficient
Children today are missing out on the importance of knowing how to plan and prepare meals. Basic cooking, baking, and food preparation are necessities for being self-sufficient. Involve your family in menu planning, grocery shopping, and food preparation. Preschoolers can tear lettuce, cut bananas, and set the table. Older children can pour milk, peel vegetables, and mix batter. Teenagers can dice, chop, bake, and grill. Working as a team puts the meal on the table faster, as well as makes everyone more responsible and accepting of the outcome. Improved eating habits come with "ownership" of a meal.

Continued ›