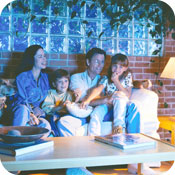 Balanced breakfast? Check
Mid-morning snack? Check
Healthy lunch with the kids? Check
Passing up your mother's homemade cookies? Check
Coming home in the evening and going on a feeding frenzy? CHECK!!

If you're 6 weeks post-partum, and you've received your doctor's OK to ease back into diet and exercise, this scenario may sound familiar. Even if you are breastfeeding (and need to add about 500 extra calories per day), examining your nutritional habits is important. Make sure you're consuming plenty of quality foods, and not empty calories, throughout the day and evening. Transitioning from eating extra calories during pregnancy and breastfeeding, to reducing calories for weight loss can send you through a loop. You're in control, everything is going fine - until you come home starving at night and eat a large dinner, say yes to dessert (and seconds) and finish off a bag of chips before bed. What gives?

From a metabolic standpoint, there is really no reason not to eat food in the evening. A calorie is a calorie regardless of when it is consumed. A morning calorie is metabolized in basically the same way as an evening calorie. However, eating in the evening is a problem for many, not because of the way food is metabolized, but because of the quantity of food that is often eaten.

Skipping meals and becoming overly hungry by evening can lead to nighttime binge eating. Recent studies revealed that when people ate three meals a day only 13% binged. When people skipped breakfast, 24% binged and when people skipped breakfast and lunch, 60% binged. In general, people who spread their meals throughout the day seem to be better able to control their eating. They are less likely to feel hungry and less likely to overeat. So by eating breakfast, lunch, and dinner and planning snacks in between, you can help yourself lose weight as well as maintain better control of your eating throughout the day and night.

For most people, the evening is "down-time," used to relax, watch television, and unwind from the stresses of the day. Others view this as a time to multi-task and catch up on household chores, bills, homework, and other responsibilities. Whether you're winding down or checking off your to-do list, unconscious eating can accompany your routine and result in a massive calorie intake. Devouring a bag of chips, a sleeve of cookies, or a pint of ice cream can occur when your mind is somewhere else.

Continued ›