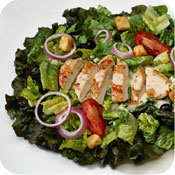 When you are on the go, you need to get things done and get them done now. Unfortunately, for some people, this means everything is done "on the go." However, just because you live your life in the fast lane doesn't mean that your eating habits have to stay there, too.

Today more than ever, fast food restaurants are trying to jump on the bandwagon of society's push to live a healthier lifestyles by advertising low-fat and healthier options on their menus. Take advantage of this! Obviously, the best and most effective ways to maintain a healthy lifestyle are by exercising and maintaining a nutritious diet, but everybody knows there are those times when you are forced to grab your grub from the drive-thru. So the question is, how can you eat fast and healthy?

The first of two ways you can cut down on your fat and calorie intake is by ordering salads or grilled, not fried, sandwiches. Fast food chains McDonalds and Wendy's both offer a variety of healthy and tasty salads on their menus, all under $4. If you are not in the mood for crisp veggies, then try McDonalds' grilled chicken sandwich with only 10 grams of fat and 230 calories or the Jr. Hamburger from Wendy's with only 9 grams of fat and 270 calories, both under $2.

There is always the fresh and fast option of Subway, which has 6 sub sandwiches under 6 grams of fat, all under $5. (Note: Because of risk of illness, pregnant women should only eat deli meat and cold cuts that have been heated until steaming. Read this article for more info.) Even though we are all familiar with Jared and his love for Subway, his ability to have the discipline to limit the type of fast food he put into his body helped his weight loss more than anything. So come on! It's simple and you can do it! Eat to fill your nutritional needs, not just to curb your hunger. You can eat healthy while still getting the treat of eating out if you practice these simple ideas:
Ask or look for the nutritional information available for restaurants. Be mindful of what you are eating.
Go easy on the condiments and extras, i.e. cheese, sauces, super-sizing.
Eat in moderation.
Eating fast food here and there won't hurt, but don't make it habitual.
Substitute grilled for fried.
Drink ice water or milk instead of soda.
Beware of fat filled salad dressing.
Chicken is often less fatty than beef.
If you splurge on fast food for lunch, make extra sure that your dinner is healthy and nutritious.