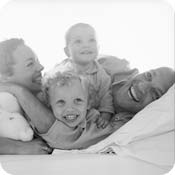 It's that time of year again- you know, that time when we're attacked by the media with the message that if we only do X (fill in the blank), or only buy X (fill in the blank), it'll be a picture-perfect holiday. It seems that it's our mission- even our duty-- to create "special moments" that will finally make this the most wonderful time.

I'll never forget the year I figured out how to create a picture-perfect holiday. I planned a traditional meal of Roast Beef and Yorkshire Pudding for Christmas dinner. Friends and family mingled throughout our house, enjoying cocktails and appetizers before the meal. As I surveyed our guests enjoying themselves, Christmas music in the background and decorations shining brightly, I almost cried. The scene was indeed "picture-perfect."

Then the Yorkshire pudding caught on fire. The fire alarm drowned out the Christmas music, and rather than mingling amidst the beautiful decorations, our guests were evacuating to the backyard.

I almost cried. What had happened to my "picture-perfect"
holiday?

As we aired the place out with fans, our guests enjoyed more cocktails in the backyard. We eventually sat down to our traditional meal of Roast Beef and Minute Rice. I glanced around the table, pulled my sweater closer (after all, the door was still open to let the smoke out, so it was a little chilly), and couldn't help but reflect on how great the day had really turned out.

I almost cried. (What can I say, I cry a lot.) Our friends and family were laughing and enjoying themselves despite the drama. (Maybe it was the extra cocktails?) One brave couple even sampled the charred Yorkshire pudding. Okay, so the scene wasn't perfect and probably wouldn't make the next cover of Currier and Ives, but it was ours-- and we made the best of it.

The month between Thanksgiving and New Year's can be the most wonderful time of the year. How? The trick, I've found, is to step back from the media's interpretation of a "picture-perfect" holiday, and to concentrate on making the moment ours. Here are just a few suggestions to start.


Traditional Holiday Baking
There are thousands of magazines this time of year describing all the luscious cookies and treats we can bake for the upcoming festivities. I confess to drooling over the delicacies on the covers as I stand in line at the store. I have even been guilty of buying the magazines, only to spend half of the day I've designated for cookie baking tearing the house apart trying to remember where I put them. Then I discover you actually have to buy the ingredients, too. YIKES!

Continued ›