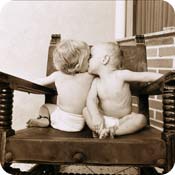 Choosing commercially prepared formula to feed your baby is an important decision. What you feed your baby now provides the foundation for future health and development. Be sure to talk with your baby's doctor about the appropriate infant formula for your baby. Your baby's doctor is the best person to provide recommendations about your baby's nutritional needs. You should never change formula without first checking with your baby's doctor.

Formula: What Type?

Cow's milk-based formula uses cow's milk as the protein source and has been modified to be more like breast milk and appropriate for your baby.
Cow's milk-based formula with DHA and ARA is cow's milk formula with the addition of 2 fatty acids docosahexaenoic acid (DHA) and arachidonic acid (ARA). These fatty acids occur naturally in breast milk and are associated with the development of your baby's brain and eyes.
Low-lactose formula is a cow's milk based formula but the milk sugar called lactose has been removed and replaced with glucose polymers. This is used for infants who are sensitive to the lactose and are experiencing feeding problems like fussiness, crying, bloating, gas, or diarrhea.
Soy-based formula uses isolated soy protein as an alternative to milk protein. It is appropriate for certain sensitivities and parent preferences.
Protein hydrolystate formula and fat malabsorption formula are available for babies with protein allergies and fat absorption difficulties. The protein and fat in these formulas have been broken down for easier digestion, absorption, and utilization.
Old fashioned homemade formulas made from canned milk, evaporated milk, or goat's milk and corn syrup may have nourished you or your mother, but they are nutritionally inferior to today's commercially prepared formulas and should not be used.
Iron: Choose a formula with iron rather than low iron. The iron helps form hemoglobin that carries oxygen throughout the body. Iron is also important in brain development and educational performance. Iron in formulas does not cause gas, spitting up, diarrhea or constipation.
Forms of Infant Formula:
Ready-to-feed cans do not need to be diluted with water. The formula can be poured directly into a bottle and refrigerated until use. This formula is the most convenient because no mixing or measuring is necessary; however, it is also the most expensive.
Liquid concentrate formula is mixed with an equal amount of water. Then it is poured into the bottles and refrigerated until use.
Powdered infant formula is mixed with water. One level scoop (from can) of the formula is added to each 2 ounces of water in a baby bottle. Do not pack the formula into the scoop or tap the side of the can before leveling off the scoop. Shake the bottle well to mix. Refrigerate until ready to use. This type of formula is the least expensive.