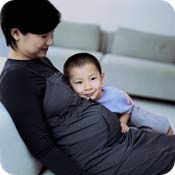 Most pregnant women have a one-track mind. For nine months, all they can think about is the day they finally get to meet and hold their baby.

"Too often we just think about labor and delivery," says Julie Shields, author of How to Avoid the Mommy Trap: A Roadmap for Sharing Parenting and Making it Work. "All we want is a healthy baby, and we don't really think about what our life is going to be like later. That is when we run into problems."

Shields has interviewed hundreds of parents in all stages of child rearing. Her research shows that those happiest as parents have planned for life beyond the labor and delivery room.

Just as expectant parents need to plan for birthing classes and maternity leave, they need to plan for life with a new baby. In her book Shields points out that "Prospective mothers who don't want to do it all themselves must divvy up household and baby responsibilities before the baby arrives. Otherwise, they will likely join the more than two thirds of new parents in conflict over their new roles."

Planning for Parenthood

Negotiation: Becoming the parent or parenting team you want to be is rarely automatic. It typically takes planning, cooperation, and negotiation. According to Dr. Pamela Jordan, author of How to Strengthen Your Marriage As Your Family Grows, "Couples will likely find that their expectations, which emerge from their underlying values and beliefs, differ significantly. The couple then needs to sit down and negotiate how they want things to be in their family and their lives, and develop strategies to make it so."


Research: Many first-time parents have very little knowledge of infant care. Therefore, Shields recommends that before their baby arrives, these people talk to a number of seasoned parents. Ask how their lives changed with parenthood, how they divide child care and household responsibilities, and if they are happy with their arrangement. Shields also suggests that expectant parents spend at least twenty-four hours with a newborn. This experience will help de-mystify parenthood, and make planning for life with a new baby that much easier.


Strategy: Once parents are aware of their new tasks and responsibilities, they must then devise a strategy. Shields recommends that parents "figure out together how you will allocate these jobs, taking into account current responsibilities, and respective strengths and weaknesses." One way to do this is to map out a typical workday and weekend day with baby. Take the baby, household, and parental needs into consideration. This plan should also include a detailed arrangement for nighttime childcare, sleeping schedules, and personal time.

Continued ›