Don't let summer parties and cookouts derail your plans to eat healthier! You can keep the flavor and cut the excess calories by trying one of SparkPeople's healthy summer recipes.

Check out our top-rated and editor's choice recipes below. You just might find a new warm-weather favorite!



Grilled Sweet 'n Sour Chicken
541 calories, 4g fat, 62g carbs, 3g fiber, 59g protein

More ideas to liven up grilled chicken


Light Coleslaw
72 calories, 5g fat, 8g carbs, 1g fiber, 1g protein

More healthy takes on coleslaw


Patriotic Pudding Pie
192 calories, 8g fat, 16g carbs, 1g fiber, 6g protein

More desserts with berries


Summery Salmon with Corn Salsa
253 calories, 10g fat, 11g carbs, 3g fiber, 31g protein

More salmon recipes


Perfectly Healthy Pasta Salad
163 calories, 2g fat, 28g carbs, 5g fiber, 9g protein

More pasta-salad recipes with fewer than 200 calories


Tropical Fruit & Quinoa Salad
111 calories, 4g fat, 18g carbs, 3g fiber, 1g protein

More summer fruit salads


Pico de Gallo
22.5 calories, 0g fat, 6g carbs, 2g fiber, 1g protein

More salsa recipes


Roasted Summer Veggies
121 calories, 7g fat, 15g carbs, 5g fiber, 4g protein

More cookout ideas for vegetarians
More Healthy Recipes for Summer!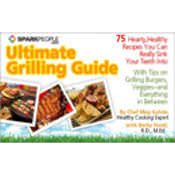 Need more great grilling ideas? Check out our e-book, ''SparkPeople's Ultimate Grilling Guide: 75 Hearty, Healthy Recipes You Can Really Sink Your Teeth Into.'' Get it on Amazon.com and get grilling!