Could you change your life in 28 days? Could you lose weight, get fitter, and change your attitude about weight loss in just four weeks? We think so! That's the premise behind our best-selling book, The Spark, written by SparkPeople.com founder and CEO, Chris Downie. We recently challenged people reading the book to follow its 28-day jump-start program and then tell us how their lives had changed when the month was over. Out of dozens of emotional, funny, and downright amazing entries, we narrowed it down to five winners whose stories you can read here. If you need a motivational pick-me-up, these stories are sure to inspire you to believe that change can happen for anyone!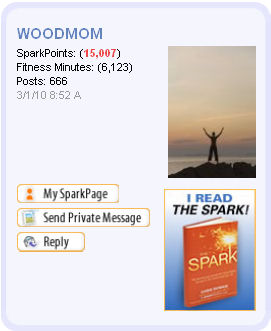 My 28-day Challenge
by WOODMOM


"Reading 'The Spark' has inspired me to new heights this month. I have been a member of SparkPeople.com for several years and have been able to lose weight through the program. But where 'The Spark' helped me most was in defining tangible goals and giving me the motivation to look at this journey in terms of a healthy lifestyle and not just dieting. This came out in my vision collage. The pictures that appealed to me weren't the swimsuit models, but those of people eating healthy, hiking with their spouses, and playing with their grandchildren. I think when I began to look at my reasons for wanting to be fit and realizing that they are to stay alive and be energetic and fully present to my family and friends that I made a real breakthrough.

"That is not to say that my body didn't change during this month. I had been at a plateau just 2 pounds shy of my goal weight for several months, and just two weeks into the 28-day challenge, I reached my goal! Overall, I lost 3.6 pounds and 3-3/8 inches this month. I dropped a clothing size and felt more confident. Lots of people are noticing the changes in me and are asking what I've been doing. I am telling people everywhere about 'The Spark' and SparkPeople!

"Another result from the challenge is that I am seeing the crossover effect in my life. Having health and fitness successes has carried over into being more organized, keeping a cleaner house and having a more fun-loving attitude about life. Our family is reaping the benefits of having a mom who takes care of herself!

"I am already looking to set some new short-term goals and begin working on some of the longer-term goals. I am thinking of trying things I once thought were impossible! Thanks, SparkPeople!"


28-Day Challenge Completed, A New Me is Beginning
by ROWDYRILEY


"Back in December, I turned the Big 4-0. I was the last of my friends to turn 40 and probably the only one who was okay with it. I feel comfortable with who I am….Well, for the most part that is. Everybody is a work in progress right? The task that lays ahead for me (and has been for some time) is my health.

"My health is in the crapper. I've been suffering from joint pain. I had gotten to the point where I couldn't bend over and tie my shoes. If I tried, I couldn't breathe. Walking up stairs at work was torture. I'd be so winded by the time I got to the top, I couldn't talk to the person I had gone to see.

"I've been on the diet roller coaster along with everyone else. It hasn't been a fun ride and, quite frankly, I'm tired of the whole amusement park. 'Try this pill.' 'Do this diet.' 'What you need is to detox.' The focus has always been on losing weight—watching the number on the scale and praying that it will move in the right direction. With that being the focus, I've lost every battle.

"I needed something different. My new focus? Better health coming from better habits and monitoring my weight just as one way to make sure the action steps I set for myself are working. I promised I would be patient with myself and would live by the saying 'Slow and steady wins the race.' All rewards should be based on behaviors not numbers. With this new focus in mind, I traded in the amusement park for a new battlefield, SparkPeople.com and a new playbook, 'The Spark.'

"I'm two months in and a transformation is occurring. How can I tell? Is it that my clothes are fitting better or that I'm not out of breath when walking? Well, yes. That's part of it. But it's so much more than that. I feel it in my heart. I don't just see the difference in the mirror. I see it in my attitude. I have a new approach to food, stress, exercise—to living life! I do things now that I didn't do before. I'm no longer a collector of exercise DVDs. I am a user of them. I am a regular exerciser. I am a drinker of water. I think before I eat. I eat veggies every day!

"I owe this transformation not just to Chris Downie, who wrote the book, but also to MRSELY, Mo, WANT2BEFIT10, and the 'The Readers of The Spark' Team. They have not only been there to support me and be my cheerleaders but, more importantly, to serve as inspiration. Reading how others are facing their struggles and coping with them teaches me how I too can deal with whatever life throws my way.

"The 28-day challenge is complete. A battle is won but the journey isn't over. It's only just begun! Keep on Sparking!"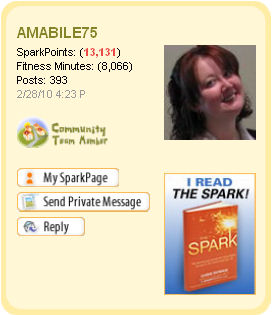 28-Day Challenge: The New Me!
by AMABILE75


"I joined SparkPeople.com back in 2006 and made great progress before the holiday season set me back and I didn't get back on the horse. I spent 2007-2009 with short periods of motivation, but I still didn't stick to my program. I used SparkPeople during these years only as a tool to track my food from time to time to see how I was doing. I didn't really get involved with any SparkTeams or try to build any relationships with any SparkFriends.

"Near the end of 2009, I returned once again to SparkPeople and was excited to see the pre-order for 'The Spark.' I can't explain why, but I felt this was a book that I needed to purchase. I pre-ordered the book and was pleased to see it came with 1,000 SparkPoints just for ordering. I received 'The Spark' in the mail and put my other books aside so I could get started.

"I was so encouraged and motivated by what I was reading. I couldn't believe there was still so much about this program that I hadn't bothered to find out over the past several years. I had read SparkPeople's articles, went through some of the motions, and had even seen good results on my weight loss...but I hadn't truly been sparked.

"Perhaps the most profound moment while reading 'The Spark' was when I read Chapter 2 (Cornerstone: Focus). The picture Chris painted of finding yourself adrift in the ocean and no idea where the shoreline was really had an impact on me. I realized this is how I felt at my job. More importantly I realized I had the power within myself to change this feeling if I simply set goals for my life and started working to achieve them. Suddenly my days in the office didn't seem overcast with that dark cloud hanging over me. Obviously, the issues with the people I work with didn't go away, but my attitude was evolving.

"I had never really put much stock in goals. I used to find those who 'preached' goal setting very annoying and immediately dismissed what they had to say. 'The Spark' gave me this AH-HA moment and made the point of goals so clear to me that I immediately started to see how I could use this process in many other aspects of my life. I started telling my husband all about my AH-HA moment and have spent weeks now trying to get him to share in this with me. I started telling some of my co-workers (anybody who would listen to me) all about what I had learned!

"This 28-day challenge was such a success for me. Not because I lost 6 pounds. Not because I lost a total of 5 inches. Not because I faithfully tracked my food and exercise, or even that I started some streaks or realized the importance of those 10 minutes of exercise done outside of my gym schedule. All of these things were absolutely amazing to me as well, and I plan on sticking to them, knowing I will reach my goal weight. These are all things that I either learned or enhanced during the 28-day challenge. The one thing that made this a success to me is what I learned about GOALS.

"It is so clear to me now that I can't believe I hadn't seen the picture before. My dreams are within my reach. All I have to do is determine what my dream is, then start taking steps to get there. It might be a long road filled with challenges and long, hard hours of work and dedication but if I want it, I can have it. I can't sit back and complain about how 'I can't do this,' or 'I can't have that,' never lifting a finger to reach my goals yet blaming life for not giving me what I want. I see that every little thing I do to achieve a goal will be well worth the effort when I reach that goal.

"I am working to be more active now with the SparkPeople community. I even became a Community Team member because I want to help others. I even joined my very first SparkPeople Team challenge, the Spring 2010 5% Challenge."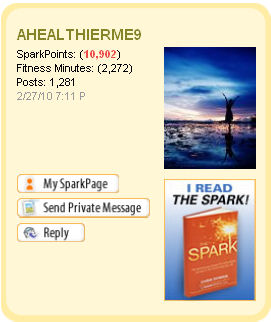 From Baby Steps to Leaps and Bounds in 28 Days
by AHEALTHIERME9


"For those of us who began this healthful journey as an obese or overweight person, we've all been told at some point in our lives, 'Baby steps. Just take baby steps,'--something that, for me, had always seemed like an impossibility.

"And they were indeed baby steps that I learned to take when I discovered SparkPeople.com in July of '09. I could have never imagined that the one moment, that single second when I clicked on the SparkPeople link, would be the beginning of my transformation, would be the answer to my prayers, would be the catalyst to my wellness that my family had longed for... the miracle that I had needed for so very long.

"For most of my 'dieting' life, I've wanted immediate results, expecting perfection from myself and setting unrealistic goals that required way more consistency and effort than I was truly willing to give. I believed the negative self-talk and lies that I told myself, which convinced me that being overweight was my fate, was my destiny, was who I was.

"I accepted that belief for many years. Then three years ago, I was in a car accident that left me with some painful injuries. I became extremely inactive and gained even more weight until one day I hit rock bottom and said 'No more.'

"Then along came SparkPeople. Ah, just to say the name makes me tear up, because this is that one thing, that one answer, that one miracle that I've spent most of my adult life looking for and thought I'd never find.

"I became a member of this dynamic SparkFamily last July. To me, the concept was genius and God-sent. I became proactive. I read, participated, made changes in my life, made great friends, and as I like to put it, I 'sparked fiercely.' I had lost 7 inches and 36 pounds by the time November came around.

"Then the holidays arrived and I felt incredibly challenged with all the festivities. I had no idea that I was about to encounter the very pitfalls that had prevented me from pursuing weight loss in the past: fear, the feeling of failure, the feeling of disillusion for not having done things perfectly, that all-too-familiar 'falling off the horse' syndrome and not knowing if I'd have the strength or ability to get back on.

"It's as if I was a baby who had taken her first baby steps while her family watched and clapped and cheered her on. Then as she dared to take just a few more steps, she fell, which brought her to tears by the notion that her little legs may not have enough strength to get her back up.

"When January 2010 came along, I wasn't sure if I could get back up, if my will was strong enough to persevere. I was forgetting the truths that I had discovered and was letting fear and doubt come back into my life. I started hearing that negative inner voice saying, 'This is it. Your ride stops here. This is as far as you're going to get. It's time for the yo-yo to go in the other direction now.'

"The downward spiral had taken hold and was unraveling all my inner hard work.

"Then, like another gift from God, came 'The Spark' and its 28-day program. It's as if Chris Downie was saying, 'Oh, no. This is real. This is forever...and you can do this' and grabbed hold of my hand and pulled me out of that potentially dark spiral.

"I read and read and read the book. I blogged and blogged and blogged on my SparkPage—all 28 days! I got what started out as a notebook and has now ended up being my journal, and I took notes, completed action steps, made lists, came up with new strategies. Day by day, I got mentally stronger. I became inspired all over again. I started having new epiphanies and 'ah-ha' moments. The upward spiral had begun!

"Well, during my 28-day program, I was able to redefine what I want, which is to live a healthful life, a dynamic life, a happy life, a productive life. I revisited my focus and my purpose. I got brutally honest with myself about my 'excuse' pitfalls and blogged about it. I identified some flaws (like disorganization and procrastination) that hold me back, and made a list of unfinished tasks that I need to address. I learned how to view stressors as challenges, thanks to Chris, and was able to tackle things that I've been putting off for quite a while.

"I narrowed down my goals and got really specific, which I hadn't done before. I set and outlined new short-term, mid-term, and long-term goals and I put in place a new concrete, tangible reward system for achieving daily goals. For example, each day that I stay within my nutritional goals, I pay myself 25 cents; each day I exercise, I pay myself another 25 cents. That money will accrue and will be used towards my mid-term and long-term goals rewards.

"I got crafty. I made my reward jars, I made my vision collage, and now I am putting a 'Big Dreams' collage together.

"I made a bucket list, and I smiled while doing it!

"I took Chris' suggestion about packing some snacks in my car so that if I'm ever out in the field and need to eat something, I have healthful things to reach for.

"I got back to doing whatever exercising I could and have made a commitment to do at least the 10 minutes a day that Chris suggests. It's about progress, not perfection, and some exercise is better than no exercise.

"My measuring spoons, cups, food scale, and water bottle have become my best friends, and I've restocked my kitchen with many super foods and healthful snacks.

"I've made my SparkTime a priority and have rebuilt my motivation.

"I've soul-searched and reflected and contemplated. I've cried for the young girl who I covered with layers of fat, who never got to be all that she could have been; I've cried for the stifled, lethargic, unhealthy person I allowed myself to be for so many years; and I've cried for the woman I am being given the chance to now become.

"This 28-day program has allowed me to get serious again and to do further inner work; and in that inner work, I've realized more than ever and reaffirmed that SparkPeople is not a diet. It's a way of living, a philosophy. It is a part of me—a part of who I now am.

"I can dare to dream and I can really make my ultimate goal a reality. I believe that now. I specifically know and believe this because I no longer am expecting perfection from myself, just progress.

"As of today, I have taken off 48.2 pounds and a total of 15 inches. I am feeling happier, more energetic, and more hopeful. I have even come out of my shell, mustered up some courage, and actually posted my very first set of pictures on my SparkPage! And one even better than that? One week ago, I met my very first SparkFriend, Rachel, in person!

"I've been setting an example for my husband and children, and they are learning from me... they are watching me. They will get home and grab a fruit from the fruit bowl. My son asked me if he could have some of my hummus and multigrain crackers the other day. I said, 'Yes. Just make sure to measure it!'

"He asked me, 'Mom, can you come here and show me how to measure it?' And I smiled. I smiled because I see that even though my whole family may not be on SparkPeople just yet, progress is definitely being made.

"Spreading the Spark...it is such a good feeling.

"I Spread the Spark the other day on the phone to a bill collector if you can believe that! Last week, to a judge. And the other day, I gave a banana to the homeless man who I usually give spare change to. He was famished and he was so incredibly grateful and gobbled it up right in front of me.

"I want to continue to Spread the Spark, to show the world how it's all supposed to work, how we're all supposed to be, to show people that we really can be everything we were always meant to be.

"So how did the 28-day program help me?

"It empowered me, it enlightened me, and it energized me. I'm still standing and my baby steps have grown into leaps and bounds! And, truth be told, I really couldn't have done it without the support of my terrific and dear-to-my-heart SparkFriends, who coached me, motivated me, and helped me rekindle my fire."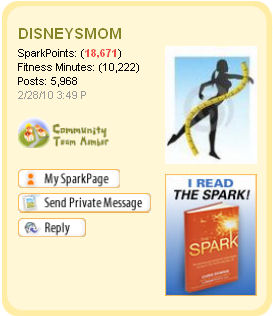 The Spark Introduced Me to an Amazing Woman
by DISNEYSMOM


"I had never looked to deeply into myself, half afraid, I think, of what I would find there. I defined myself by the work I did and my life pretty much revolved around that. I would go to work, socialize with my co-workers, come home, eat and veg in front of the computer screen or a DVD. I wanted to be healthy. I tried various times to lose weight, studied fitness and nutrition, bought free weights, fitness DVDs, a bench, a step, an exercise ball, and did nothing with them. I had the knowledge to plan healthy meals and exercise routines, but couldn't seem to apply them to myself.

"In March of 2009, I found SparkPeople and thought it was the answer to a prayer. I diligently tracked my food, half-heartedly exercised and felt my spark starting to dwindle by June when I learned that my department would be closing and I was facing the possibility of a layoff. I slowly stopped tracking and exercising, my stress level increased and I was indeed laid off in October. I had no sense of identity and felt like a failure. I was isolated as all of my friends were former co-workers and I fell into a deep depression that lasted into December.

"I was given some money for Christmas and was putting together an order on Amazon.com when I remembered 'The Spark' and how excited I had been about SparkPeople back in March. I ordered the book and logged back into SparkPeople for the first time in a long time. I spent the last week of December putting together my plan for January, hoping that I would not fail again, still searching for a job and really not knowing what I wanted to do with my future.

"'The Spark' arrived and I started reading it right away. I remembered Chris's story from the convention, but reading through it again was powerful. And then I got to Chapter 2 and my life started to change. By this point, I had already started a walking streak by accident that has really grown. But reading about goals and basing them off my life's purpose made me realize I didn't know my life's purpose, what I really wanted to accomplish here on Earth. I started doing a lot of thinking and came up with two goals that are really at the core of who I am, a person that I was only then coming to really know. I want to live a healthy and active life and I want to work in an industry that was meaningful and where I could help people. I still really didn't know what industry at that point. But it gave me a place to begin from, rather than just falling back into retail management or customer service where I had always worked before.

"I became very passionate about walking as I saw my streak grow and wanted to keep increasing my distance and use it to help other people. I have registered for several charity walks this year and am actively raising money through my walking to help causes I care about deeply. My current walking streak is now at 60 days, a feat I could never have imagined back in December when I ordered the book.

"At the start of the 28-day program, I knew that I wanted to dig deeper into myself than I ever had before. I really wanted to find my path. I started covering an action step a day in my blog and soon had people telling me that they enjoyed my blogs and found them inspirational. I found that I really enjoyed helping new members on my SparkTeams and offering advice and encouragement to those who are struggling. As I continued through the program I thought at one point that I really wished this could be my career. And that's when it hit me! This could be my career; I could help people who are dealing with the struggles accompanied by trying to lose weight. I am returning to school to complete my bachelor's degree in psychology (I have 24 units left). From there I plan to go on to a master's program with a goal of counseling people who are struggling with weight loss. In the meantime, I will be searching for employment that will allow me the flexibility to follow my goals.

"On the surface, my situation hasn't changed since October. I am still unemployed and searching for work. But the woman inside has changed completely. I have uncovered dreams that were buried for years; I am happy and positive and well on my way to a healthier life, physically and emotionally. I really like the woman I have found within and I can't wait to see what else she can do!"

Weight loss results will vary from person to person. No individual result should be seen as a typical result of following the SparkPeople program. *



Want to try our groundbreaking 28-day program yourself? Pick up

The Spark

today and change your own life in one month!