When Ann (AGILLASPIE60) was diagnosed with type 2 diabetes in July, 2010, she knew she had to change her lifestyle and get her health under control. A few months later, she was struggling with motivation when she found SparkPeople.com. Since then, Ann has lost 40 pounds and is now in control of her diabetes! We asked Ann to share her inspirational story to show others what can happen when you work hard to make healthy changes in your life.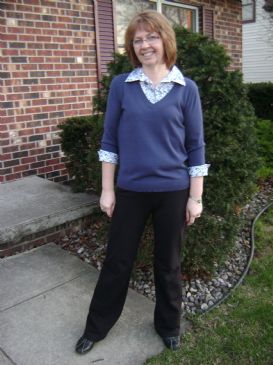 Ann today


As a person with diabetes, were there any specific challenges you faced when trying to lose weight? If so, how did you overcome them?
"I work 10-hour days at a childcare center. I use large amounts of energy caring for small children and by the time I get home, I am exhausted. I have to MAKE myself find time for exercise. I walk my dog most nights but also decided I could exercise with the kids during my workday. They play in the gym every day, so I started running laps with them. We get creative during our laps by hopping like bunnies, crawling like turtles, etc. I even hula hooped with them one day!"

What SparkPeople tools and features have helped you the most?
"I love the Nutrition and Fitness Trackers. I really enjoy reading all the articles on nutrition, fitness and motivation. The support from other SparkPeople members has really been great as well!"

Did you take medication to help control your diabetes?
"I take Metformin for my diabetes, but my doctor recently told me I can stop taking it at any time! I have been taking it every other day for the past few weeks and will stop taking it altogether as soon as my current bottle of pills runs out."

Do you have any go-to meals, snacks or recipes that are diabetes friendly?
"For lunch I usually have a Lean Cuisine meal. I read the labels carefully to make sure I don't have too many carbs and that there is fiber in them. I include plenty of fresh fruit in my diet and try to get a few servings of veggies every day as well. I am happy that peanut butter is a super food! I have about a 1/2 serving of it most days. For breakfast, I almost always have a bowl of Quaker High Fiber Oatmeal with blueberries."

Has exercise played a role in your weight loss and/or diabetes management?
"I usually exercise 5-6 times a week. At times I have taken my blood sugar two hours after a meal and had high readings. So I go for a brisk 30-minute walk with my dog and I'm able to lower that number by as much as 80 points. That is phenomenal! So YES, exercise is key to keeping my glucose levels down, and I have NEVER felt so fit in my entire life!"

Now that you've reached your weight loss goal, what are some future goals you've set for yourself?
"Of course, I want to maintain my weight and continue the healthy lifestyle I have adopted. I want to run a 5K race this summer. I am looking into hosting a diabetic seminar at my church to help all those people who have asked what I did to lose the weight and control my diabetes."

What advice do you have for other people with diabetes who are trying to manage their condition and their weight?
"Build a support system. Tell people about your condition. I was surprised at how many other people have diabetes. My doctor told my about a local support group, and I recommend those. Take a diabetes education class at your local hospital if you can! Use SparkPeople to get TONS of information and support from people just like you! You CAN manage—even beat—this disease! Be vigilant and take charge! I made diabetes my enemy and I was determined to not let it get the best of me. When you feel yourself getting down, look to SparkPeople for support and ideas to stay strong. YOU CAN DO IT!"


Congratulations, Ann! If you are diabetic and looking for information and support to help you reach your goals, check out SparkPeople's Diabetes Condition Center and Spark*D program, which provides free diabetic meal plans, newsletters, and SparkTeams that offer support!