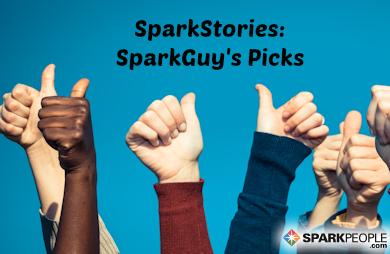 These posts are featured "SparkStories", classic posts from our members that provides support, encouragement and inspiration to the SparkPeople Community.


We love hearing from health professionals who use SparkPeople for their clients and patients. Here's a fun one from this year from a nutrition coach that was posted to our Facebook page:
"As a Nutritional Coach, there is NO better system out there than SparkPeople."- Bob Roy

This post below is a powerful one showing the importance of taking care of yourself first in order to be the best possible caregiver to others.



"There are two most powerful days in your life: The day you were born and the day you discover why… Now that the kids are grown up and I've started taking more care of myself through this process of weight loss and self love, I've discovered a power within I didn't know I had. Today I feel strong, and on the verge of a discovering a whole new purpose. I've always taken care of everybody around me. Now I'm taking care of me first and realize i'm even better at taking care of others! I'm happy and inspiring others along the way. This is how I'm spreading the Spark. Blissful. Just blissful." - SUZANNE-145
This is a great comment posted to my blog about me teaching my boys how to jump rope:
"I remember the days I would never fit in the seats for rides or I would need the seat belt extender sitting in my seat in the airplane. Now I can ride and fly without issue. Thanks to you and SparkPeople, I have a new, much improved life!! Also with your son jumping rope, how awesome is that!! We all compete in 5K's today. The last one in June the whole family ran. One of the coordinators said "Mom you should be proud. Look at you all being healthy together. Way to go Mom!" That was a profound moment for me. From a person who could barely walk to the mailbox to jogging 5K's now. Thank you from the bottom of my heart!!"- Moni
The comment below was posted to my blog about the death of Robin Williams:
"I couldn't believe it when I read that Robin Williams's took his own life. I didn't want to believe it.

 Depression, anxiety. addiction, they are a black hole that sucks you down. You try to climb out of it, but it just sucks you farther down. It's grip is strong, but I was one of the fortunate ones and escaped it's grip. I joined SparkPeople, logged on everyday, exercised, lead 2 teams, and co-moderate the DWD team, still do. It took me 23 months, but I have lost over 120 pounds and have maintained it since 12/12. I have had several people tell me they have never seen me happier and more engaged since I joined SparkPeople.

 My counselor said SparkPeople is my guardian angel."
I love getting notes from members who are happy to make SparkPeople their "home" for reaching goals!
"Dear Mr Sparkguy, 
I don't know if I've said this yet but I want to thank you for this site. I've only been on it for a few weeks. I haven't lost but a few pounds and a few inches but I feel like I've (finally) found a place. It's a comfort to hear from others who have issues the same or worse than my own. It's a thrill to watch other people get more fitness minutes. 

It's a lovely, positive distraction from my own stressful, drama-filled life. (I'm a middle school teacher and my husband isn't working.) It's fantastic to take care of me without feeling selfish or egocentric. In a negative and often hateful world, this place gives me positive energy and hope for a healthier life. 

Again, mil gracias (many thanks). I hope we can "talk" again."
Click
here
to read more SparkStories!
Posted 1/2/2013 12:00:00 AM By: : 0 comments 2,862 views
Read More ›
‹ Back