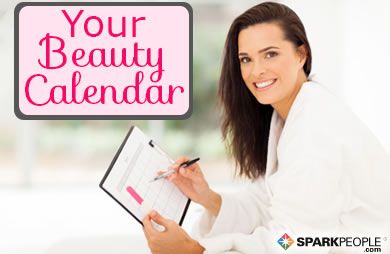 For most women, taking care of your body involves more than eating healthy and exercising. It also includes the day-to-day things we need to do to look our best, like tweezing our brows and keeping our nails neat. And although maintaining our appearance doesn't have to take a lot of time, it does need to be done on a regular basis. But how often is enough? Use this handy guide (and the printable chart below) for scheduling appointments and staying on top of your beauty regimens.



Your Hair: Crowning Glory


Your hair is one of the first things people notice about you. And as everybody knows, a bad hair day can certainly put you in a foul mood. Hair care professionals recommend regular trims every six weeks to keep split ends at bay. If your style is casual or longer, you can stretch this out to about three months between cuts. Short hair may need a visit to the hair salon once a month if the style is precise and sharp.

Hair color should be touched up every six weeks to eight, or whenever there are obvious roots showing. If your have lightened your hair dramatically, then a trip to the salon may be needed sooner than that, depending on how fast your hair grows.

Gray hairs tend to pop up quite quickly around the temples so a quick touch up may be in order even sooner. There are many good hair-coloring brands available at the drugstore these days so another trip to the salon isn't usually necessary. If you get your hair colored professionally, ask your colorist if he or she offers inexpensive touch ups. If not, perhaps he or she can recommend a do-it-yourself kit to match your color. An ammonia-free color glaze may be used to add a touch of color between full colorings.

Highlights or streaks don't need to be freshened up as often—you can go two to three months between colorings in most cases. If you get your hair highlighted too often in different sections, you run the risk of your color becoming monotone over time, with all one shade instead of the contrast you originally wanted.

If you have your lashes and brows tinted, these need to be re-touched every four to six weeks. Never do this yourself as the products may cause serious reactions including blindness. Trust a professional instead.



Your Complexion: Face the Facts


Getting a professional facial is a terrific way to maintain a healthy complexion. An esthetician can treat any dryness or acne you may have and suggest products to keep these problems from returning.

Continued ›