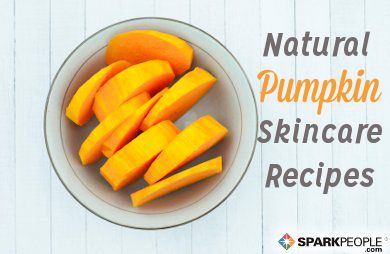 There's a reason pumpkins are so popular. Not only do they inspire creative carved sculptures, decadent desserts, and soothing stews, but they can also be blended into your beauty routine for healthier skin. Pumpkin is high in many nutrients that are as good for the outside of your body as they are for the inside:
Vitamin A (retinol) acts as a mild cleanser that also soothes and softens all skin types, even sensitive skin.
Vitamin C, a powerful antioxidant, preserves the health of skin cells.
Alpha-hydroxy acids gently exfoliate dead skin cells, draw out impurities, and revitalize the skin.
Zinc can help soothe irritated skin.
The synergy of all of these nutrients means that pumpkin is a natural and healthy way to care for your skin, including premature aging, sun spots, clogged pores, and a dull, uneven complexion. Autumn is the perfect time to experiment with this quintessential squash in your own beauty routine. Here's how.

This time of year, you'll find pumpkins at farmer's markets and supermarkets—or your local pumpkin patch. Fresh is best, so while you're out picking the perfect specimen for this years jack-o-lanterns, bring home an extra pumpkin for yourself. Cut it open, scoop out the seeds, and slice the pumpkin into large chunks. Place them on a baking sheet and bake at 400 degrees until the skin is easily pierced with a fork and the flesh is tender—about one hour. Allow to cool, and blend (with the peel attached) to make a puree to use in the following body care recipes. As a shortcut, you can always resort to canned pumpkin puree—but fresh is always best.

The following beauty recipes contain fresh ingredients and should be used immediately for best results. Leftovers may be covered and refrigerated for use within 48 hours.

Sweet Pumpkin Body Scrub
This body scrub will gently exfoliate and revitalize your skin.

Combine, in a small bowl:
1 cup pureed pumpkin
1 cup organic cane sugar
1/8 tsp cinnamon
Mix with a spoon until blended. Apply to body with gentle circular scrubbing motions, using a washcloth if desired. When complete, rinse with warm water.

Purifying Pumpkin Facial Mask
This facial mask with help soften your skin for a natural glow.

Combine, in a small bowl:
2 Tbsp pureed pumpkin
2 tsp honey
1 egg yolk, beaten
Buttermilk—just enough to reach a spread-able consistency
Mix ingredients well, and apply to freshly cleansed skin, avoiding the eyes. Lie back and allow the mask to do its work for 15-20 minutes. Rinse with warm water, and enjoy your smooth skin.

Continued ›
Article created on: 10/16/2007