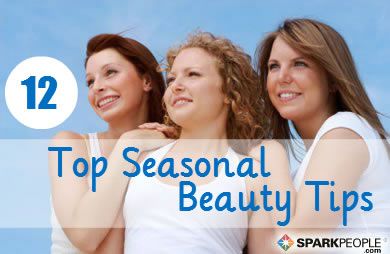 Looking your best can be frustrating. Just when you get a beauty routine down pat, the seasons change and suddenly you have to start all over again. Keeping your hair and skin in top condition all year round means working with the weather, not against it. These beauty tips will help you look your best in every season—no matter what Mother Nature has up her sleeve.



Spring

showers may bring flowers, but that's not all. They also bring the start of bad hair and seasonal allergies!


Hair Care


Hair becomes frizzy when its outer cuticle is roughed up, which allows the hair to absorb more moisture from the air. But you can fight the frizzies by conditioning your hair every time you wash it and applying a smoothing serum with silicone to seal down the cuticle. Using a flat iron can also help straighten and smooth out the cuticle, but make sure you use a protective cream or serum first to help prevent heat damage.

Saving Face
Allergies to budding leaves and plants can mean itchy, watery eyes and a red, runny nose. Combat these beauty woes by wearing minimal makeup. Stick to basics like waterproof mascara and a good concealer.

Apply the concealer in light layers to avoid caking (and the all-too-obvious "made up" look). Avoid the temptation to use a heavier hand, which draws more attention to the flaws you want to cover up. Concealers with green undertones are ideal for covering redness, but make sure to blend them well to avoid looking sickly. Also avoid wearing a reddish-colored lipstick if your nose is irritated with allergy symptoms, as this will accentuate the redness.

Body Beautiful
If you have neglected your feet during the winter, now is the time to start getting them ready for sandal season. A quick and easy way to improve the condition of your feet is to polish away flakes and rough spots with an exfoliating scrub. Simply warm a bit of olive oil in the microwave for a few seconds and mix in either salt or sugar to create your own inexpensive scrub. If you have any fragrant oils, add a few drops of your favorite scents to the scrub. Keep any leftovers in the refrigerator and use within a week. This scrub can also be used on the rest of your body but avoid using it on your face as it may be too abrasive for sensitive facial skin.

Continued ›