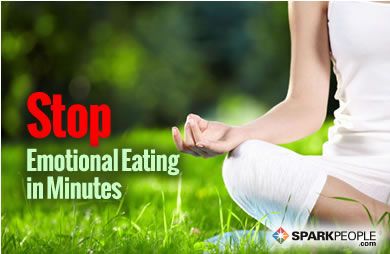 What is the single, most common problem that most dieters face when trying to lose weight? Will power? Nah. Temptation? Sometimes. Emotional eating? Bingo! That's why it takes so much more than good intentions and information about nutrition and exercise to be successful. The ability to manage difficult situations and feelings effectively—without turning to food and eating—is a necessary foundation for a successful weight loss plan and healthy lifestyle.

Fortunately, there are many proactive steps you can take to keep functioning on all your mental cylinders during tough times. These steps range widely from basic relaxation techniques to the development of a reliable support network. Other options include:
Keeping a food journal to help you identify your emotional eating triggers
Cultivating mental and emotional well-being through practices like meditation, mindfulness, massage, and yoga
Developing good problem solving skills
Turning to the Message Boards for help and support when you need it; offering help to others as a way to get your mind off your own troubles and gain a little perspective on things
But all of these things take time, and there are many instances when you need something you can do right now, to keep yourself grounded, focused and able to make good decisions. After all, you don't always have time to take a walk, relax in a hot bath or call a friend to talk things over. That's what we'll be talking about here—a 3-minute trick for handling stressful situations in the moment.
Continued ›
Article created on: 6/21/2006