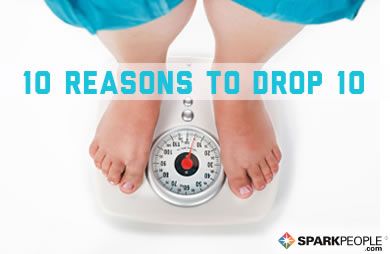 If you are overweight or obese, there are some powerful reasons to drop 10 percent of your body weight this year. Losing this amount of weight can significantly improve your health and well-being. It may not sound like a lot. In fact, most people trying to lose weight set much loftier goals for themselves, but unrealistic goals can often end in disaster.

A 10 percent goal is very doable...that's 20 pounds for someone who weighs 200; 25 pounds for a person whose scale reads 250; and 30 pounds trimmed from a 300-pound person.

Top Ten Benefits
So, what are the top ten health benefits you can expect after dropping 10 percent of your weight? In no particular order, they are:

10. Better blood pressure
9. Improved heart health and lower cholesterol levels
8. Decreased risk for diabetes
7. Enhanced sex life
6. A better night's sleep for those with obstructive sleep apnea
5. Less pain associated with arthritis, joint disease, and lower back pain.
4. Better breathing
3. Decreased risk for colon and breast cancer
2. A healthier gallbladder
1. More energy

Getting Started
Along with the health benefits, there is power in achieving a 10 percent reduction in body weight. But getting started can be tricky—especially since there is no such thing as a "one-size-fits-all" weight loss program. So I have called upon experts in the field of nutrition and dietetics. I asked four of my closest dietitian friends and colleagues to share a few thoughts on ways to effectively start working toward this 10 percent weight loss goal.
Continued ›
Article created on: 12/29/2005