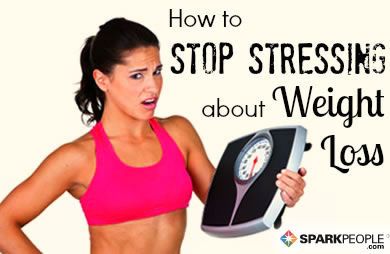 There's no doubt about it: trying to lose weight can be a stressful thing! There's nothing like trying to stick to a "simple" weight loss plan for bringing you face-to-face with the frustrating complexities of human nature and the limits of our rationality and will power. And even when we do manage to do what we know we should, often our bodies seem to operate according to a different kind of math—where a 3,500-calorie deficit doesn't always equal one pound of weight lost.

The unfortunate part is that this constant stress can make losing weight more difficult than it needs to be. Research shows that chronic stress can affect your metabolism, promoting fat storage, and increasing cravings for sugary, high-fat "comfort foods.

There are lots of things you can do to manage this stress, ranging from yoga and meditation to a hot bath or a pleasant walk in the park. In this article, however, we'll focus on how certain (very common) expectations about weight loss can cause stress, and how you can adjust your expectations so that you're not stressing out about your own weight loss (or lack thereof).

To find out whether your expectations about weight loss may be increasing your stress levels, take the following brief quiz. Indicate whether you think the following statements are true or false. To benefit from this exercise, your answer should reflect how you honestly feel most of the time, NOT what you think the "correct" response might be.


I have taken a careful look at my eating and exercise habits, and I have a good idea of what I need to change and how I want to do it.
I have accepted the idea that I need to make permanent changes in my lifestyle to lose weight and keep it off permanently.
I will feel successful only if reach my weight loss goal.
I know that it took time to gain weight, and I believe it is best to try to lose the weight slowly.
I am working on weight loss now because I really want to, not because someone else thinks I should.
If I can manage to lose the weight, I think many other problems in my life will be solved.
I am willing and able to do a significant amount of physical activity on a daily basis, including planned exercise.
I can lose weight successfully with no slip-ups.
I am ready, willing, and able to spend enough time each day planning and tracking my food intake and exercise activities.
If my weight loss slows down or stalls out, I usually lose my motivation and stop my program.<
When I am having problems sticking to my plan, I usually get on the message boards or the phone and talk about it with other people.
I have many stressful situations in my life right now, but I'm determined to be successful at weight loss.
Continued ›
Article created on: 8/10/2005