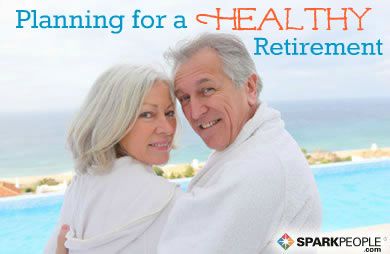 Once upon a time there was a distinguished politician who went into retirement after a long career of hectic schedules, important tasks, and continual limelight. After hanging around the house for the first week of his new-found freedom, he was gently chastised by his wife, who informed him that she had married him for better or worse, but not for lunch.

Do you also need some help making the transition from busy worker bee to busy retiree? The journey from working to retiring is one of life's great transitions-- even if you've planned for it and are already looking forward to it. A time of delicate decisions and scary new possibilities, retirement can feel both exhilarating and confusing. Choices made now will reverberate through the rest of your life. Choices about fitness and nutrition may be the most important of all.

How will you spend your time, and what do you want to do on a typical day? What do you want to learn, and what do you want to teach? Where and how will you live? Is it possible now to resurrect some of the dreams and goals you've deferred? As you plan the rest of your life, incorporating your beliefs, values, and commitments, be sure to give proper attention to your physical well-being. If you're in good shape, great! You'll want to maintain that valuable condition. If not, there's no better time to make healthy changes. Here are some things to keep in mind:

Physical activity is more important than ever.

If you're not interested in joining a formal fitness program, you can stay physically active in other ways: bowling, fishing, gardening, biking, or community projects that require elbow grease.
If you are interested in a formal fitness program, find out if local churches, recreation centers, or civic associations offer classes and activities for seniors, especially since they may also offer discounts.
To limber your limbs—and to maintain at least one activity that's free, low-risk, and convenient almost anywhere—try to walk or jog 20-30 minutes, three to five times a week.
Partner up with a fitness buddy—someone who's as serious as you about fitness. Make your exercise regimen a good excuse to maintain friendships, or renew old ties that you missed when you were tethered to the workday world.
Consider making strength training a priority—it offers numerous benefits for seniors, such as increasing energy levels throughout the day, reducing stress and anxiety, delaying or preventing age-related disorders, and enhancing sleep, balance, endurance, and flexibility.
Continued ›
Article created on: 3/23/2005